August 16, 1985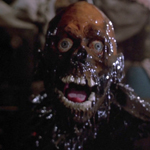 THE RETURN OF THE LIVING DEAD is a movie that I already reviewed thoroughly for Halloween 2015, but it's such a classic I felt it would be wrong to exclude from this retrospective. So feel free to click on that link for a straightforward piece about some of the reasons I love the movie, but this one will zero in on a few aspects I feel are interesting in context with other movies we've discussed from the Summer of 1985 movie season.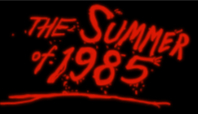 As a horror-comedy that's more of a real horror movie than a parody, RETURN arguably has a kinship with FRIGHT NIGHT. But obviously its closest comparison is its brother from another producer, George Romero's DAY OF THE DEAD. Earlier in the summer I wrote about some of the ways DAY fit the specific moment of 1985. RETURN does it in a totally different way. Romero's takes a grey, grim approach to railing against the Reagan era, while RETURN writer-director Dan O'Bannon does the EC Comics and punk rock version. Like so many of the movies we've been looking at, it's a very soundtrack-oriented movie, embracing music of the time. But it's not Huey Lewis, Cyndi Lauper or even Oingo Boingo – it's punk rock bands like T.S.O.L., The Cramps, The Damned and The Flesh Eaters. (read the rest of this shit…)
VERN has a new action-horror novel out called WORM ON A HOOK! He has been reviewing movies since 1999 and is the author of the film criticism books Seagalogy: A Study of the Ass-Kicking Films of Steven Seagal and Yippee Ki-Yay Moviegoer!: Writings on Bruce Willis, Badass Cinema and Other Important Topics as well as the crime novel Niketown.