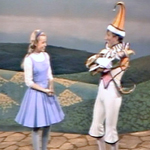 Maybe it doesn't mean shit to you whippersnappers, but Alice was one of the favorite properties of many young geeks growing up in the late 19th century. And fave genre author Lewis Carroll would be happy to know that his content still exists today. Through the Looking-Glass, and What Alice Found There is Lewis Carroll's 1871 young adult beach read sequel to the 1865 blockbuster franchise-starter Alice's Adventures in Wonderland.
Part 2 is a similar nonsense adventure tale where half a year later Alice decides to step through a mirror into a fantasy world on the other side for one last mission. Instead of a government and military force based on playing cards, this time they're based on chess pieces. TOTALLY DIFFERENT. It's just a shame Carroll gave it that cumbersome title instead of something sleek like A2: DARK REFLECTION so it would've caught on better.
In the tradition of the BOURNE or FRIDAY THE 13TH series, many of the elements associated with the Alice in Wonderland intellectual propertyverse are actually from part 2. The singing flowers, the weird, rotund twin manbabies Tweedle Dee and Tweedle Dum and the poem that they recite ("The Walrus and the Carpenter") were all included in Disney's 1951 animated classic ALICE IN WONDERLAND, which continues to be the best known version of the story. Alice finds the poem "Jabberwocky" in a book, but unfortunately it made no sense, audiences couldn't relate. Luckily we got his backstory in ALICE IN WONDERLAND ORIGINS: JABBERWOCKY (1977) by Terry Gilliam. (read the rest of this shit…)
VERN has been reviewing movies since 1999 and is the author of the books SEAGALOGY: A STUDY OF THE ASS-KICKING FILMS OF STEVEN SEAGAL, YIPPEE KI-YAY MOVIEGOER!: WRITINGS ON BRUCE WILLIS, BADASS CINEMA AND OTHER IMPORTANT TOPICS and NIKETOWN: A NOVEL. His horror-action novel WORM ON A HOOK will arrive later this year.