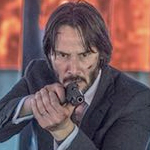 JOHN WICK: CHAPTER 2 is the solid sequel we always hoped (in fact assumed) it would be. The first film – already a certified modern action classic – had a perfect combination of elegant high concept (legendary assassin comes out of retirement to avenge some dipshits who killed his dog) and interesting world (a society of killers with their own rules, services and even currency). Rehashing the former would make for diminishing returns, so returning screenwriter Derek Kolstad (ONE IN THE CHAMBER, THE PACKAGE) digs deeper into the latter, showing us more about the operations and codes of the Continental Hotel and its affiliates as Wick is forced to repay a debt, getting himself into more and more trouble and testing the limits of his unkillableness.
He's still trying to retire. The movie has a sense of humor about it without undermining his sincerity. Moments after he finishes cementing his weapons back into the basement floor the doorbell rings and you think "Jesus, what now?" Well, it's Italian gangster Santino D'Antonio (Riccardo Scamarcio, THE BEST OF YOUTH), who helped him escape the business and now is cashing in his favor to drag him back in. Wick would have to get into the Vatican to assassinate Santino's sister Gianna (Claudia Gerini, THE PASSION OF THE CHRIST). Throughout the movie Wick finds himself backed into corners and all he can do is keep killing his way out of them. And the more killing the more corners. (read the rest of this shit…)
VERN has a new action-horror novel out called WORM ON A HOOK! He has been reviewing movies since 1999 and is the author of the film criticism books Seagalogy: A Study of the Ass-Kicking Films of Steven Seagal and Yippee Ki-Yay Moviegoer!: Writings on Bruce Willis, Badass Cinema and Other Important Topics as well as the crime novel Niketown.