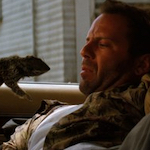 I reviewed THE LAST BOY SCOUT (1991) once already, 15 years ago. Though I think I described some things about it pretty well, I was at somewhat of a snooty wiseass stage in my critic's journey, and I was more dismissive of it than I should've been. Despite that I remembered it being a pretty good movie, and I'd been wanting to rewatch it for a while, so this last November, when BWolfe asked in the comments, "Can you re-review this? I feel like you'd give it a much better shake now," I knew he was right.

This Joel Silver production is a collaboration/clash between director Tony Scott (coming off of DAYS OF THUNDER) and screenwriter Shane Black (after being replaced on LETHAL WEAPON 2). Those guys making a Bruce Willis movie is about as all-star action as it got in 1991, and had Bruce and Silver known how the release of HUDSON HAWK was gonna go earlier in that year they would've been even more eager to sow they could still blow people through the back walls of theaters. (read the rest of this shit…)
VERN has a new action-horror novel out called WORM ON A HOOK! He has been reviewing movies since 1999 and is the author of the film criticism books Seagalogy: A Study of the Ass-Kicking Films of Steven Seagal and Yippee Ki-Yay Moviegoer!: Writings on Bruce Willis, Badass Cinema and Other Important Topics as well as the crime novel Niketown.