August 14, 1998
THE AVENGERS was a widely hated bomb and at the time I thought it wasn't so bad. I kind of liked it. As is my way. Now, with the benefit of twenty years of hindsight, and not hurt by having preceded it with LOST IN SPACE, GODZILLA and ARMAGEDDON, I stand firmly by it not being that bad and me kind of liking it.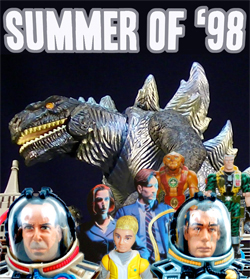 I must note as a disclaimer that I still haven't watched the at-that-time-twenty-some-year-old British TV show it's based on. I'm sure there are plenty of legit reasons for Avengers fans and our English friends to hate it that I don't know about. But I like that it's a quirky would-be blockbuster with weird gimmicks and humor, and unlike the ugly-as-shit LOST IN SPACE and GODZILLA it has dated well visually – the '60s-inspired designs look as good or better now than they did in '98. Also helpful in the timelessness department: the end credits have a James-Bond-theme-worthy song called "Storm" by Grace Jones. (I was gonna say it was 100% ska free, but the soundtrack listing notes a song by Suggs, lead singer of Madness, so I may be forgetting something.)
And it's a fuckin action adventure starring Ralph Fiennes, cashing in on SCHINDLER'S LIST, I guess. You don't see that every day. I guess maybe you could count STRANGE DAYS. (read the rest of this shit…)
VERN has a new action-horror novel out called WORM ON A HOOK! He has been reviewing movies since 1999 and is the author of the film criticism books Seagalogy: A Study of the Ass-Kicking Films of Steven Seagal and Yippee Ki-Yay Moviegoer!: Writings on Bruce Willis, Badass Cinema and Other Important Topics as well as the crime novel Niketown.