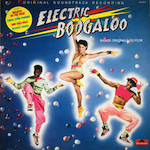 "In the second film the wardrobe people wanted to go glamorous. And they wanted to make Los Angeles look beautiful – that's why all the colors are bright and friendly. Los Angeles is not like that – they made BREAKIN' 2 as some kind of a WIZARD OF OZ of dance. And you know what? For a kid that never had anything, not even the money in the family to go to Disneyland – suddenly people were screaming, and cheering, dancing and being happy on the screen. That's the fantasy. Maybe Los Angeles will never be that way, but Los Angeles was beautiful for one day when people watched BREAKIN' 2. I think that's nice." -Michael "Boogaloo Shrimp" Chambers to Marco Siedelmann in the book Stories From the Trenches: Adventures in Making High Octane Hollywood Movies With Cannon Veteran Sam Firstenberg
BREAKIN' was a huge hit for Cannon. It opened at #1 even though it was going head-to-head with Universal's SIXTEEN CANDLES, and on almost 200 fewer screens. It ended up making $38 million, which was more than twice BEAT STREET's total, and put it at #17 in the 1984 box office rankings, above such films as BACHELOR PARTY, RED DAWN, THE TERMINATOR and Cannon's own MISSING IN ACTION. And if you scan down that list, way down to #102, you'll find BREAKIN' 2: ELECTRIC BOOGALOO.
That sounds more disastrous than it is, because only its first ten days of release were in 1984; its eventual total would've put it around #59. More notable than the sequel's lower box office take is the fact that they got it into theaters less than 8 months later. But it wasn't just a continuation – they put together a new team of filmmakers, headed by director Sam Firstenberg, who had just directed Dickey in NINJA III: THE DOMINATION (also released in '84!), and they gave it a goofier, less reality-bound tone and style with more neon and rainbow colors in the clothes and graffiti. (read the rest of this shit…)
VERN has a new action-horror novel out called WORM ON A HOOK! He has been reviewing movies since 1999 and is the author of the film criticism books Seagalogy: A Study of the Ass-Kicking Films of Steven Seagal and Yippee Ki-Yay Moviegoer!: Writings on Bruce Willis, Badass Cinema and Other Important Topics as well as the crime novel Niketown.