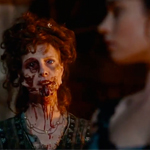 When I first heard about PRIDE & PREJUDICE & ZOMBIES – the book where Seth Grahame-Smith inserted the undead into Jane Austen's original text – it sounded like a clever public domain art project, something I could respect without wanting to actually read it. When I heard that they were making it into a movie it sounded like kind of a bad idea, but since David O. Russell was doing it I thought maybe it would be interesting. By the time Russell left and it was finally made by 17 AGAIN director Burr Steers I had written it off.
But then I saw the trailer, where the absurd premise was done with a straight face, and that was all I needed to get on board. I should've known better, too, because this is actually a repeat of what happened with Grahame-Smith's second book, ABRAHAM LINCOLN: VAMPIRE HUNTER. The wackiness of the title made me groan, but then I enjoyed the deadpan movie version. To this day it makes me smile to think that that actor had to master both delivering the Gettysburg Address and spinning an ax.
So I should learn to trust this Grahame-Smith guy. He also wrote Tim Burton's DARK SHADOWS, which I enjoyed. But more importantly he has a corner on this rare, ballsy type of movie: lavish, earnest productions of intentionally ridiculous historical drama/horror-action combos. Steers has the unlikely discipline to treat Austen's story of courtship among the rich with utter respect even though he's moved it to a post-zombie apocalypse London surrounded by a moat and wall and at war with the undead hordes. I actually found myself invested in Austen's original love story regardless of any zombie business. (read the rest of this shit…)
VERN has a new action-horror novel out called WORM ON A HOOK! He has been reviewing movies since 1999 and is the author of the film criticism books Seagalogy: A Study of the Ass-Kicking Films of Steven Seagal and Yippee Ki-Yay Moviegoer!: Writings on Bruce Willis, Badass Cinema and Other Important Topics as well as the crime novel Niketown.