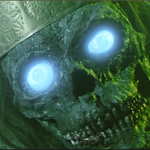 Let me try to explain this in pizza terms. You know how every once in a while you might get a pizza, and it's not of the highest possible quality? They got all the ingredients there, but maybe the proportions are a little off, or it was cooked too much or too little or something, so it's not the greatest, but at the same time it has crust and sauce and cheese and toppings and those ingredients together are always gonna taste pretty good? THE SEVENTH CURSE is like that. It's kind of too gooey and falling apart but it has pineapple, fake ham and jalapenos, and that's pretty much my favorite toppings. (I've come to prefer Mama Lil's Peppers*, but this one needed more spice.)
It's a supernatural action adventure with Chow Yun Fat playing the pipe-smoking occult expert Wisely (called Wesley on the subtitles of the DVD I rented), a character from a series of 156(!) novels. In this one he's kind of a supporting character because it's based on another book series centered on his colleague Dr. Yuen, here played by Chin Siu-ho (TAI CHI MASTER, FIST OF LEGEND). The books are by Ni Kuang, who in between writing enough novels to make Stephen King look like a lazy no good piece of shit also found the time to bang out screenplays for DIRTY HO, THE 36TH CHAMBER OF SHAOLIN, HEROES OF THE EAST, THE 8 DIAGRAM POLE FIGHTER, and literally hundreds of other movies.
He didn't write this one (that was Wong Jing [MERCENARIES FROM HONG KONG] and Yuen Gai-chi [DRUNKEN MASTER II]), but would you believe he hosts it? It opens with him, playing himself, surrounded by women and talking to the camera.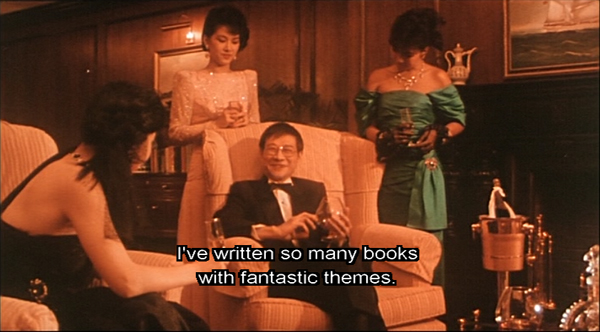 (read the rest of this shit…)