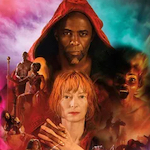 THREE THOUSAND YEARS OF LONGING is the new George god damn Miller movie. So obviously you should see it. Here are some thoughts.
It makes sense, but also is really funny, that in the seven (!) years since MAD MAX: FURY ROAD this project was sometimes described as the small movie Miller wanted to make before diving into another Mad Max. The reason it makes sense is that it's a simple love story centered around two characters, and much of it is one long conversation taking place inside a hotel room. The reason it's funny is that one of the characters is telling stories set in different cultures and across centuries, with kings and queens and magic and imaginative creatures and many frames filled with too much meticulous detail to absorb in one viewing.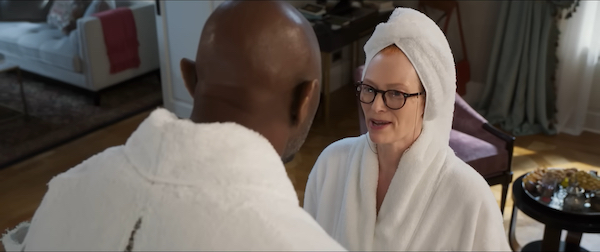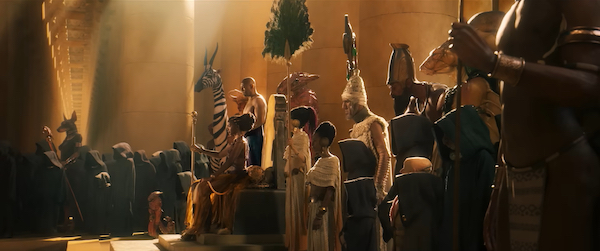 The best way I can describe it is that it's a whole lot like Richard Linklater's BEFORE movies, other than being in almost every way their opposite.
What that means is it's intimate, free-flowing, conversational, a matter of wit and chemistry and spark and storytelling, yet it's also that patented Miller maximalism, where every image, every costume, every location, every odd word choice feels lovingly designed and plotted to fit just right. It's the mythical wrapped in the casual and everyday. It dazzles with every perfect transition, like the cut from the landing gear lowering as a jet comes in to beneath a 3-wheeled luggage cart being pushed through the airport. No shot, no moment, is a throwaway. So many of its frames look like perfectly composed paintings, but it never seems like a series of paintings, because the movement of the camera is so important. Though only occasionally swooping through explosions and battles as in FURY ROAD, the camera seems just as matter-of-factly inventive, finding interesting lenses and effects to express perspectives and feelings visually. Cinematographer John Seale [DEATHCHEATERS] came out of retirement for FURY ROAD and returned to it after this one. Thank you for your service, sir.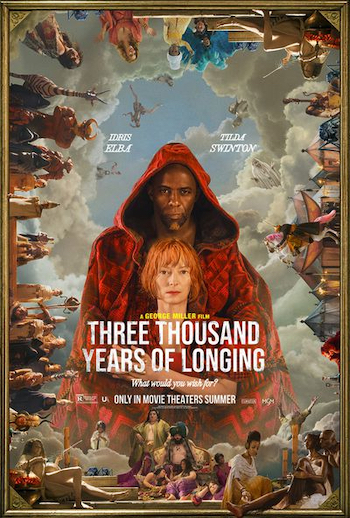 Oh yeah, so what's it about? Magic, I guess. By which I mean stories and love. Alithea (Tilda Swinton, CONSTANTINE) is a narratologist – an expert on the similarities between stories told across time and cultures, who visits Istanbul for a speaking engagement. She's been having strange hallucinations and then she picks up a memento, a small blue and white glass bottle, which she disovers contains a Djinn (Idris Elba, PROM NIGHT) when she accidentally pops the lid off in her hotel bathroom.
Alithea (via Miller), being a lover of tales, illustrates the unlikelihood of gravitating to this particular antique at the bottom of this pile in this room of this shop on this street lined with similar shops – and then refusing to be talked out of it – to suggest either fate or spectacularly good (or bad) so-called luck.
The Djinn fills up the room like a parade balloon, but shrinks down and puts on a hotel bathrobe after she gets him talking. The hook is that he needs to grant her heart's desire in three wishes before he can be free to move on with his existence, but because of her particular expertise Alithea is convinced "there are no stories about wishes which are not cautionary tales." And she believes she's happy with her life how it is, a claim that seems reasonable despite her restless leg while speed-reading possibly signifying otherwise. Yeah, she's a widow divorced, but she studies what she loves, gets to travel, has nice colleagues who like and respect her, and seems very self reliant. It seems like a good life to me, but I suppose when a lady like that meets Idris Elba she starts considering the possibilities more.
I saw two prominent Black critics indicating on Twitter that this was racist trash, and I purposely waited to read their reviews until writing down my thoughts, only to discover that neither have reviewed it. I'm interested to hear their take. The Djinn exists in Arabian or Persian type settings, without references to Africans other than the unparalleled beauty of the Queen of Sheba (Africa's Next Top Model winner Aamito Lagum). But there is an undeniable discomfort in this white woman just casually having a Black Djinn in her servitude, especially since he seems to be an exotic sexual attraction even for her xenophobic neighbors. I think that's meant to be uncomfortable though – Alithea's overthinking and intellectualizing of her choice and taking her god damn leisurely time about it while every story he tells her underlines why she should hurry the fuck up and figure out how to get him the freedom he's waited thousands of years for.
He describes that time as his "incarcerations." The stories of how he got in and out of each lamp involve all kinds of palace intrigue, secret crushes, coups, and lines of succession. He gets stuck hidden under a tile for generations, trying different tricks to bring attention to himself. I like how we see him granting wishes not with the wave of his hand, but having to strategize and work to achieve the needed results. Alithea is correct that wishes can go wrong, but the Djinn really tries to lead the wishers to be smart about it (with varied results).
There are so many instances of Miller's imaginative invention: Solomon (Nicolas Mouawad) playing a stringed instrument that sprouts wooden arms to play itself, another Djinn (or demon or something?) who crawls up the side of a tunnel, drips to the ground as a weird spider creature and then scatters into a swarm of bugs – things like that. And there are great visual ideas: hair melting into liquid gold, The Djinn's legs covered in navy blue scales, the very noticeable dust in the air in Alithea's house that we eventually realize are pieces of the Djinn flaking off. He starts as smoke and eventually turns to ash.
The score has some very beautiful strings that reminded me of a part of the FURY ROAD score that makes me emotional even hearing it out of context, because I know it's when Furiosa realizes the Green Place no longer exists, drops to her knees and screams in anguish. I figured it couldn't be ol' Junkie XL on this one because it didn't have any beats or guitars or anything but yeah, it's him, Tom Holkenborg. Good job.
This is a fairy tale for adults, based on a short story ("The Djinn in the Nightingale's Eye" by A.S. Byatt), adapted by Miller & newcomer Augusta Gore. The visual style reminds me at times of BABE: PIG IN THE CITY (which had the same production designer, Roger Ford). I mean, this part, obviously…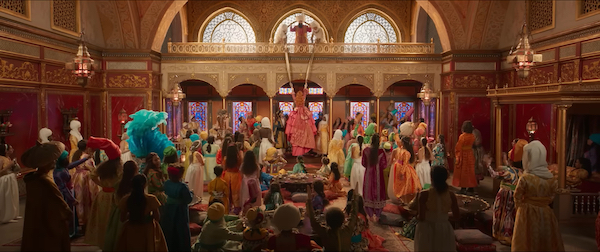 …but also just the storybook perfection of the whole thing. When the Djinn's not telling stories we're in a real world that does invoke the specific times we're living in – many KN-95 masks are worn, there's tension with the anti-immigrant neighbors – and it's less golden and colorful than the stories. But it's still beautiful, because it's George Miller, and because stories make the world more beautiful.
THREE THOUSAND YEARS OF LONGING is one of those movies that I loved from the first frame to the last, but did feel a bit thrown off when it ended. I enjoyed the journey and I got many ideas out of it but I'm not sure I clicked with specifically what it was saying. Wired did a good interview with Miller and asked him, "When you're putting together a movie, do you try and craft what you want people to receive, or are you more interested in seeing what they get and where they take it?" He said, "It's both, and where you find the balance is really how a film has meaning, or engages an audience one way or another."
In the almost-end, Alithea and the Djinn try to live together in her cute but tiny house. Seeing his oversized body crammed into that hedge-lined mini-backyard of hers trying to be comfortable really makes it feel wrong. So the part I received most, as Alithea and the Djinn face the fact that if he stays with her then cell phone towers will cause him to disintegrate, is that magic is hard to maintain in the modern world. But if you play your cards right it might come visit you now and again. And if so, you should appreciate it.
What Miller wanted us to receive I'm less sure of, but it's clearly an ingenious and personal movie that nobody else would've thought to make or would've had any fuckin clue how to make. That's all I ask of George Miller, and he's under no obligation to deliver, but he always does.
This entry was posted on Wednesday, September 14th, 2022 at 10:03 am and is filed under
Fantasy/Swords
,
Reviews
,
Romance
. You can follow any responses to this entry through the
RSS 2.0
feed. You can skip to the end and leave a response. Pinging is currently not allowed.