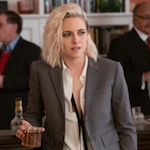 I don't usually review comedies, especially straight forward romance/family ones like HAPPIEST SEASON, nor do I plan to do it often. But I thought this was a pretty good one and I decided to give it a shot. Sharpen my skills.
HAPPIEST SEASON is new on Hulu and takes place at Christmas time, but is not specifically about any holiday celebrations. It has received some attention as a high profile romantic comedy with a same sex couple, and of a much higher quality than the ones starting to pop up on Hallmark and Lifetime. Sony/TriStar had actually intended this for a major theatrical release before the pandemic and its supporters fucked up the country. It was directed and co-written by Clea DuVall, who we of course know as an actress from GHOSTS OF MARS, THE GRUDGE, ZODIAC, etc., so it's a pretty good in-joke when a character's teenage bedroom is still decorated with a sexy poster of Josh Hartnett (THE FACULTY).
Abby (Kristen Stewart, PANIC ROOM) is an art history grad student madly, almost annoyingly in love with Harper (Mackenzie Davis, TERMINATOR: DARK FATE). They've lived together in Pittsburgh for a year, but she's been afraid to meet Harper's family, who have been made out to be very demanding and judgmental. But in a fit of romantic courage she decides to go home with Harper to spend Christmas with her family, win them over, and ask her father for permission to marry her.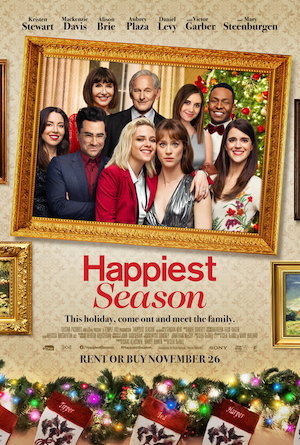 One commonality between movies like this and horror movies is that part of their fun is in getting angry at the characters for the poor choices they make. I was certain that Abby should get out of the car, go home and pack her things after Harper pulled over and confessed that she has not in fact come out to her parents and she'll have to pretend to be just her roommate. But Abby reluctantly goes along with it and tries to make the best of the situation.
So she's welcomed by Harper's mom Tipper (Mary Steenburgen, Justified season 5 and 6), dad Ted (Victor Garber, SICARIO) and younger sister Jane (a scene-stealing goof played by co-writer Mary Holland), who are perfectly nice to her, but it's painful – they're unaware of how important she is to Harper, and don't treat her with the appropriate interest or respect. They put her in a separate bedroom downstairs, making note that the door doesn't have a lock on it. I couldn't decide whether to worry about what would happen when someone barges in at the wrong time or to just root for it to happen soon and be over with.
Harper has another sister, Sloane (Alison Brie, SCREAM 4), who is repeatedly described as having given up a very promising law career to raise "the twins" and start a gift basket company. Sloane is a total nightmare and she and Harper are openly competitive about everything from career success to ice skating. When Abby tries to joke privately with Harper about how intense her sister is, Harper is in too deep to even know what she's talking about. Their usual bond as a couple is broken by all this old family shit coming up.
The discomfort increases when they go out to eat and Connor (Jake McDorman, LIVE FREE OR DIE HARD), a somewhat bro-y ex from Harper's closeted youth, "accidentally" shows up at the same time and joins them. And they also run into Riley (Aubrey Plaza, CHILD'S PLAY remake), another at-first-unexplained person from her past, although you get the idea. As Abby ends up left out of some of the family activities she continues running into Riley, and they end up hanging out together, having actual fun not being themselves.
Abby also has support via telephone from John (Dan Levy, STAGE FRIGHT), her best friend back home who agreed to feed her pets for her. He's a very entertaining version of the "gay best friend" archetype, but in this case him being gay is an anchor back to real life while she's being forced to hide her true self in this sham.
I've seen people saying that Levy is the best thing about the movie, and I figured it was people who knew him from that Schitt's Creek show that they also always talk about, and since I haven't watched it I wouldn't care as much. No – it translates. He's very funny in it.
But if one actor is the best thing about the movie, I say it's Kristen Stewart. I know that she's now a respected actress who does acclaimed performances with interesting directors, but also she's a damn movie star. Even aside from the uncomfortable position of having to hide her relationship from the family, and the stress of seeing her would-be-fiancee act so different from the person she loves, she's also out of place in the same way she would be if she actually was just Harper's roommate. They're doing all these events with all these people who have known each other for years, and because Ted is running for mayor there's emphasis on trying to impress everyone. So Abby keeps being overlooked or left off to the side to have a drink by herself at the party while the important people do the important stuff. She handles all of this much more calmly and with more forgiveness than most of us would, and what I love about it is that it's not about her being awkward – she is transparently way cooler than every single person ignoring her. Not even one character ever addresses the elephant in the room of wow, your hair is amazing.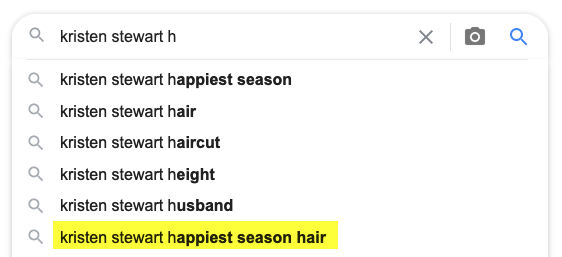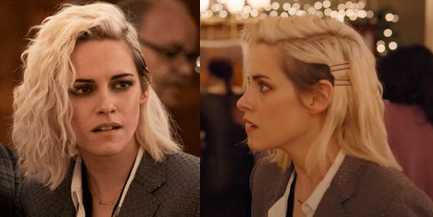 That's actually the main reason I wanted to write a review, just to sing Stewart's praises and recommend to the Hollywood powers (who I feel confident read all of my reviews at least once) that they just give her a bunch of movies, either underwater fighting giant sea monsters or whatever. But I should note that Davis (who I also enjoyed in THE MARTIAN, BLADE RUNNER 2049 and TULLY) is also great in an arguably more complicated character. She was successful in making me feel angry and wanting our girl to dump her for putting her through this, but then feeling guilty for having judged her when I haven't had to face something like that myself.
There are and should continue to be mainstream movies about characters who are gay and going through normal shit we all go through no matter our sexual identities. HAPPIEST SEASON has plenty of universal family shit for all kinds of people to relate to, and even the central dilemma of being closeted and fearing coming out to one's parents might be in some sense relatable to various people who feel misunderstood or afraid to share their real selves or have some secret. But it is specifically a gay issue, and it's fairly unprecedented for a major studio to be releasing a broadly appealing comedy for the whole family that's so very much by and about lesbians. Therefore, this release has taken on a feeling of being Very Important.
I bring that up only to assure you that, while I think it's great that it exists for those reasons, I really just liked it because it made me laugh a whole bunch and felt true to life in many ways, and then optimistic in that normal mainstream entertainment way that can be comforting sometimes. Don't worry about the overly broad opening scene, and forgive that it devolves into a big silly fight at one point, and I think you will have a good time.
And then tune in tomorrow for a review of something with more punching and killing.
This entry was posted on Wednesday, December 2nd, 2020 at 11:52 am and is filed under
Comedy/Laffs
,
Reviews
. You can follow any responses to this entry through the
RSS 2.0
feed. You can skip to the end and leave a response. Pinging is currently not allowed.