During my intense POLICE ACADEMY research I learned that 2 years after part 1, story writer Neal Israel directed a movie called COMBAT ACADEMY. I don't know if you can tell by just glancing at that title, but according to my calculations POLICE ACADEMY and COMBAT ACADEMY share one word and have the same syllable count. The cover uses the same font from the POLICE ACADEMY posters (and internal documents within the movies – look for that) and also the same sort of Mad Magazine style realistic painting of characters cartoonishly crowded together doing wacky things. I'm not sure if it's an actual Drew Struzan, but if not it's obviously based on that style. And Robert Folk did the music.

So I was kinda hoping this failed project would be a total knockoff, the same formula transported to a military academy. Maybe instead of a sound effects guy there would be a guy that does celebrity impressions, instead of a lady with big boobs there would be one with a really good ass, instead of a gun nut there's a guy who loves fighter jets. I don't know.
Sadly it's not really that much like POLICE ACADEMY. It's a more normal teen movie about two nerds who get into trouble for their crazy pranks, have to go to a military school, try to get kicked out, instead there's relationships, etc.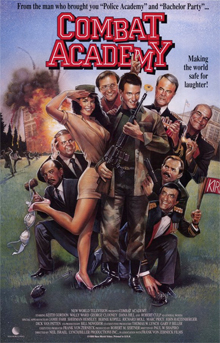 The lead nerd is Max Mendelsson, played by Brian De Palma regular Keith Gordon. He's supposed to be sort of a Ferris Bueller popular-non-conformist type guy who wears a different type of coat from the other kids and talks faster than they can think and takes nothing seriously and can pull of anything he wants. Along with his stuttering best friend Perry (Wallace Langham, who plays Saul Bass in an upcoming movie about Hitchcock) he makes a checklist of all the crazy pranks he's gonna do on the school and then sit back and smiles during a montage of shenanigans.
One of their main jokes is to set a bunch of explosives in people's lockers. This sort of thing is frowned upon in the modern day. Those Columbine assholes had to ruin everything.
Everything except the hilarity of animals. I don't know if you've noticed this, but in movies of the '80s the ultimate prank was to have some animals in a place. Because why would some animals be in that place? That's why it's funny. In this case he puts a bunch of goats in the school. And then when the principal (Dick Van Patten) wants to fill out a form to suspend them he opens his desk and birds fly out! Pranked! Birds aren't supposed to be in a drawer!
I do have to say it was kind of funny that the sign for the women's restroom was attached to the door of the principal's office. That was a pretty decent one.
It's not the principal but a judge (Sherman Hemsley) who sentences them to military school. They get in trouble just because they pose as city officials and berate some construction workers into drilling on the wrong side of the street, causing thousands of dollars of tax-payer-funded damage and possibly making innocent workers lose their jobs. Can't these people take a joke?
Max is obviously supposed to be sort of a Bugs Bunny or Mahoney type of lovable scoundrel (he even uses a Bugs Bunny reference as a walkie-talkie code name), but he's such an arrogant dick I hated him from the beginning and wanted the jerks at the academy to stomp his face in. He's always trying to show that he's smarter than everybody else, and sometimes has good wisecracks but sometimes just really terrible insults that only a little kid would think was harsh, like "and while you're at it, buy yourself a personality" to a guy that he just met and doesn't know anything about his personality or lack thereof.
His roommate and superior is Major Biff Woods, played by 25-year-old Facts of Life star George Clooney. He's trying to be a reasonable guy but is under alot of pressure from his father, the asshole head of the school (Robert Culp). Max refuses to follow any of the protocol and needles Biff until he finally challenges him to a fight. Max of course doesn't stand a chance so he goes the comedy route, he makes a bunch of corny Rambo references and then runs around avoiding contact like Andy Kaufman vs. Jerry Lawler. Eventually he tries to offer friendship to Biff and says they should get a beer together. I don't think I was supposed to be yelling "PUNCH HIM!" like the bullies on the sidelines, but I was, and I got my wish.
Perry isn't that much more likable than Max. He's the one who's embarrassed by dickishness and tries to get out of it, but he's so defined by his stuttering and shyness that he doesn't seem to have much else to his personality. And it's not clear if he's even contributing anything to the pranks he's getting in trouble for. He just seems to be the timid best friend who stands next to Max when he mouths off to everybody.
What surprised me about the movie is that Clooney is actually pretty good in it, and in a similar way to how he's good now. It's actually a complex character compared to the other things I've seen him in from the '80s. I don't think you're supposed to recognize that he's in the right the whole time, but they do turn him into an intentionally sympathetic character in the second half of the movie, and Max becomes much more likable when he starts being nice to him. Also when he tries to make Dana Hill (EUROPEAN VACATION) feel good about herself even though she's never kissed a boy and doesn't have a shot with the asshole she has a crush on.
The cast also includes Jamie Farr, Bernie Kopell, Richard Moll and John Ratzenberger. It reminded me of one of those TV movies like the one where Michael J. Fox was at summer camp and it has all the people that were on the NBC shows at the time or whatever. And that's because that's what this was, I guess – it was made for TV, at least. Which explains the lack of boobs, or at least mooning.
Oh well, at least it ends with a message of peace during the Cold War and the Rambo years. And if you were real bored one day and it came on cable it might pass the time okay. But just as an army should not deliberately seek out a war, you should not look for COMBAT ACADEMY.

This entry was posted on Thursday, July 5th, 2012 at 12:14 pm and is filed under
Comedy/Laffs
,
Reviews
. You can follow any responses to this entry through the
RSS 2.0
feed. You can skip to the end and leave a response. Pinging is currently not allowed.