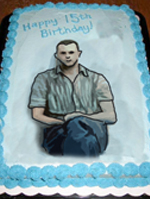 Yes it's true, 15 years ago ago today Universal unleashed the remake of Alfred Hitchcock's PSYCHO from the director of DRUGSTORE COWBOY. I didn't really pay attention but I'm sure everything turned out okay with that. And I see no reason why this new Village Voice piece of mine in which I write positive things about the movie should go over poorly.
I'm spending my evening planning a shot-for-shot-ish remake of the TV movie BATES MOTEL, hopefully with DJ Qualls in the Bud Cort role and with Vince Vaughn's stunt double (or Jon Favreau) as Norman Bates. How are you celebrating?
This entry was posted on Wednesday, December 4th, 2013 at 9:26 pm and is filed under
Blog Post (short for weblog)
. You can follow any responses to this entry through the
RSS 2.0
feed. You can skip to the end and leave a response. Pinging is currently not allowed.