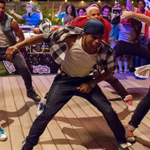 You may remember my important review series Kid 'n Play: 20 Years On Film: A Cinematic Legacy. Year end awards did not. But to be fair I think the Pulitzer has a print requirement. And I'm in for the long game anyway, I got my fingers crossed for best of the decade type awards.
Anyway it's obvious that somebody read my series because they decided it was time to rebooten the HOUSE PARTY film franchise for a generation newer than the one that theoretically watched 2001's HOUSE PARTY 4: DOWN TO THE LAST MINUTE starring Kid 'n Play's younger movie cousins Immature. HOUSE PARTY: TONIGHT'S THE NIGHT is kind of a modern rehash of the first one but done with actors and not music people like the original or the previous rebootal. In that sense it seems to be not really in the same spirit, it comes from the attitude that it's easier for an actor to learn how to rap than the other way around. But it's still the story of teenage rapper friends trying to get the girls they like and this time get a record contract at a party they aren't supposed to be throwing.
Chris (Tequen Richmond, who plays one of the beltway snipers in BLUE CAPRICE) is a sometimes rapper and responsible kid about ready to start college. Like Kid he has a dad who riffs all the time – I assumed it was another comedian, had no idea it was Gary Anthony Williams, who plays Uncle Ruckus on The Boondocks. This lifestyle is different though because dad spoils the kid, and mom is still alive and present. They live in the Hollywood hills and have more money than Kid did, so instead of sneaking off to the party against dad's wishes it's the more traditional throwing-a-party-while-the-parents-are-gone-and-oh-no-everything-is-wrecked-how-am-I-gonna-clean-this-up-before-they-get-home scenario.
Chris's best friend Dylan (Zac Goodspeed, HANSEL AND GRETEL: WARRIORS OF WITCHCRAFT) is white, and he's obnoxious enough to maybe be intended as payback for some of the wacky black sidekicks society has had to deal with for so many years. He has a terrible "street" accent, Boz-cut style stripes shaved into his head and is a horrible-but-not-in-a-trying-to-be-funny-way rapper when he and Chris have a (pre-recorded) rap battle outside the school or perform at the party. He's also a dick to all the way-too-broad misfits who end up at the party: the overweight girl, the 30 years old stereotype of nerds, the little person (who he calls "a real live gnome").
HOUSE PARTY had Martin Lawrence as their DJ friend, this brings it up to date with two feuding DJs. There's DJ Bootytime (Julian Works, PARANORMAL ACTIVITY: THE MARKED ONES), who's still using records. They make fun of his untrustworthy old equipment and supposedly old school music. The other guy – DJ Hardcap I guess (Ambrose Uren) – pre-mixes dubstep on his iPad. DJ Bootytime criticizes his lack of spontaneity, although they act like he's doing it all live as he messes with a ridiculously expensive looking set up complete with touch screen virtual turntables.
One major element missing from the HOUSE PARTY template is the cartoonish villainy of neighborhood bullies Full Force. It's kinda nice that the filmatists recognized the futility of trying to repeat that (especially since those weird characters came out of the existence of that weird music group), but it does seem kinda weak to switch from that to the standard asshole-boyfriend-of-the-hot-girl-he-likes-who's-gonna-break-up-and-switch-to-him. Now that I think about it she even looks kinda like the girl from TOKY DRIFT, which uses the same trope. On the positive side there's a part where the boyfriend is pushing the girl around and Chris says "I didn't know I invited Chris Brown to my party." I thought it was official entertainment industry policy to look the other way on Stranglin' Chris Brown, so I liked that reference.
I don't think I'm qualified to judge the soundtrack. I didn't recognize the songs or artists, but for all I know it's what the kids would listen to at a house party instead of LL Cool J, Eric B and Rakim and Public Enemy. I do like that they decided to add a handful of STEP UP style choreographed dance-offs, first inside the house, then out on the wooden deck after the ceiling collapses from a fat girl fucking in the upstairs bathroom.
The worst aspect of the movie is the treatment of the fat girl, the nerds and the little person. I don't think the filmatists or characters realize how mean they're being (they figure if they make the characters get laid it makes up for pointing and laughing at them for being different) but even the nice hero has a part where he sees the little person and shakes his head like "a midget! What will they think of next?"
The box gives away that Kid 'n Play make an appearance. It turns out to be a mid-credits cameo. Kid doesn't have the hair, of course (not even in a glass case on his desk or anything like that) and they're lookin pretty old now, but they're in character, they're pretty funny. They're also referenced in the movie when the new kids do their dance where they kick each other's feet and stuff.
This one's directed by Darin Scott, who had nothing to do with the previous HOUSE PARTYs, but did produce Rusty Cundieff's movies (FEAR OF A BLACK HAT, TALES FROM THE HOOD, SPRUNG) as well as MENACE II SOCIETY and STEPFATHER II. The writer, Don D. Scott, did the two BARBERSHOP movies.
I can't really say that HOUSE PARTY: TONIGHT'S THE NIGHT is the HOUSE PARTY straight to video sequel the world deserves, but it's not that bad. I liked when the dad was talking about the dead relative's back hump. Also I laughed at a boner joke at the beginning. Thanks everybody. The end.
This entry was posted on Thursday, December 19th, 2013 at 2:47 am and is filed under
Comedy/Laffs
,
Reviews
. You can follow any responses to this entry through the
RSS 2.0
feed. You can skip to the end and leave a response. Pinging is currently not allowed.