aka 3:15 THE MOMENT OF TRUTH
When you're a grown adult you normally don't fear somebody who you perceive as a kid. No matter how hateful the bastard is you have something over him – probly size and strength, intelligence, if not you at least have the authority of being an adult. You're supposed to be in charge here. You enforce the rules if it comes to that. They fear you. I think maybe that's what all these '80s juvenile delinquent movies were about was the fear of losing that authority. As kids looked weirder and acted scarier the grownups were terrified of the world turning upside down so they couldn't say anything to these fuckers. Oh my god, they have war paint and chains, they're gonna eat me alive.
So it's fitting that in 3:15 I have a hard time telling the kids apart from the adults. The students are all played by actors in their mid-twenties, maybe older. So you only know it's a teacher if he's wearing a tie. The school only seems to have a couple teachers, but a whole lot of gangs. I guess I can see why they're physically overwhelmed and don't seem to make any effort to patrol the halls or anything. It's a hopeless situation so they gave up a long time ago.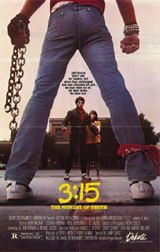 This one's definitely trying to be like THE WARRIORS but in a school building instead of the city of New York. Adam Baldwin (Tate in COHEN AND TATE) plays Jeff, a member of a gang called The Cobras. He's introduced making out with some girl who he pushes aside and abandons when the other Cobras come up and shake his hand. That image says what you need to know about his loyalty. Not until years later would anyone figure out that this philosophy could be articulated as "bros before hos."
But he disagrees with a stabbing the Cobras do so he walks away and strips off his colors, leaving the gang life behind. A year later he refuses to hold a bag of dope for his former Cobra brother Cinco (Danny De La Paz), so he gets falsely fingered as a narc. Then there's a bunch of threatening, fighting and passing messages until it's decided they're gonna go to war at 3:15 pm. Right after school, normally, but it's a half day. So the movie could've been called 1:15 but they decided to do alot of pre-fight preparation I guess.
The whole school is locked up with no security or police patrols in sight, so hundreds of kids wait outside while Jeff sneaks around inside trying to take on all the Cobras. Where the WARRIORS stuff really comes in is the other gangs – there's an all-Asian gang who practice martial arts, and a gang of black militants (with fatigues, boots and berets) led by Mario Van Peebles. But these gangs do nothing and Van Peebles only talks in one scene.
Baldwin is pretty good, better than in COHEN AND TATE, that's for sure. He's kind of like a hardboiled anti-hero, a tough guy who would rather be peaceful but knows he has no other choice and takes it all head on. His girlfriend gets tiresome, not through any fault of the actress but just because you don't need more than one scene of the girl being mad at him for being in danger. But what if you die? Then what am I gonna do? Boo hoo, everybody look at me.
Ed Lauter puts in a brief appearance as a cop who talks to the principale (Rene Auberjonois) in his office. It's basically the same thing he does in DEATH WISH 3.
The director is Larry Gross, who didn't direct any other theatrical movies, but did write 48 HOURS and Clint's TRUE CRIME. The writers are Sam Bernard (RAD, PAYBACK [the other one]) and Michael Jacobs (HALLOWEEN 5: NOT AS BAD AS PART 6 I GUESS).
Well, this one doesn't really come together, but at least it's quick (86 minute) and it feels like they're trying, despite the low budget crappiness. I noticed a boom mic blatantly swinging across a shot during a fight scene, but I don't think that means they don't care, it just means they were up against a wall to finish this thing. And they did seem to finish it, so congratulations to everybody involved.