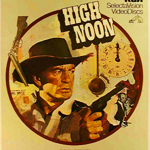 I'm still lacking in my knowledge of westerns. I know some of the bigger spaghetti westerns and some of the modern ones, but not many of the original ones those are playing off of. And I know every once in a while I oughta school myself on the basics and the classics so here I am watching 1952's HIGH NOON directed by Frederick Zinnemann.
This is the story of a pretty bad wedding day. Marshall Will Kane (Gary Cooper) is marrying Amy (Grace Kelly) who, let's face it, is WAAAAAYYY out of his league (and less than half his age). But this is the movies so somehow he ties the knot and he's gonna retire and be a househusband or something, but about one minute after he literally hangs up his star he gets handed a telegram saying that his murderous nemesis Frank Miller (Ian MacDonald) has been pardoned (for what, THE SPIRIT?) and what's more word is three of Miller's thugs (including Lee Van Cleef, the first face you see in the movie, and not a welcoming one) are waiting at the train station for him to arrive in town at noon.
The judge and everybody know Kane shouldn't have to deal with this shit on his wedding/retirement day, so they shuffle him out of town in a hurry. But of course he feels guilty, or feels like a sissy, and comes back, against the wishes of his new bride (who not only wants to go on her honeymoon, but is a Quaker, so she's against shooting guys).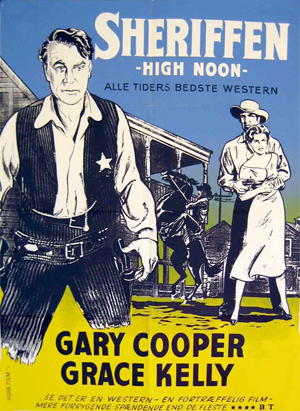 Even with himself as an extra man on shift Kane only has two deputies, and one of them (Lloyd Bridges) quits like a fuckin baby when Kane won't appoint him as his successor (he wants to leave it up to the people who will still live there to decide). So most of the movie is about the politics of trying to get people in town to man up and help him. At the jam-packed all male bar he's told off for even asking, because "Frank's got friends here, you know that." We find out that Will is a controversial figure in town because he "cleaned up the streets" and made it safe for women and children. (It is not specified what these yahoos were doing to children.) Some people like that, but others resent the loss of business from the dirtbags that got scrubbed out. It's like what Giulliani did to Times Square, I think. This movie is about gentrification!
Well, he goes to his friend, who lives in a nice big house with a fancier take on a white picket fence. And that fucker has the nerve to make his wife say he's not home instead of coming out and saying no himself. "Uh, you know Will, I'd love to but I got to, uh… there's a P.T.A. meeting?"
Then poor Kane has to resort to going to church, where sure enough the pastor passive-aggressively lays a guilt trip on him for having had his wedding at the courthouse. When Will (like Seagal in FIRE DOWN BELOW) makes his plea to the congregation a bunch of the men step forward without hesitation… and then step backwards after some loudmouths chime in and make a bunch of arguments for why they don't get paid to do this or if Kane left town there wouldn't be a problem or whatever.
There's a great scene where Bridges' character, having quit, is at the saloon having a drink. The bartender, a vocal Frank Miller fanboy, compliments him about it. And you can tell he knows that this bartender is a total shitbag and that his kind words are only evidence of what an asshole move he pulled by quitting. But instead of it inspiring him to man up and do the right thing he just tells him to let him drink in peace.
In the end the Marshall has exactly two volunteers. One is a kid who he turns down on the basis of age, the other is an old one-eyed drunk who he tells "I'll call you if I need you." I can't believe he fell for that! He doesn't have a phone to call him on!
I want to say it's a story about a guy who will think of any  excuse to avoid married life, but that's not really how it plays. It's about manly duties and responsibilities. It's not his job to do this, he could just leave. But he believes these assholes are gonna terrorize the town, and that no one else is gonna stop them. I notice traces of this western morality in DIE HARD but also in the justifications for some of our foreign policy mistakes started in the Reagan and Bush eras. We had to stop this bad guy, even though we have no jurisdiction and the people there told me not to. I'm doing it for them. That's a funny read on it though because at the time many people saw it as a lefty movie, an allegory about blacklisting. Kane had to stay true to his convictions even though no one would stand up for him. This interpretation might've come from the fact that screenwriter and former communist Carl Foreman (THE BRIDGE ON THE RIVER KWAI, THE GUNS OF NAVARONE) was called before the House Un-American Activities Committee while working on the movie and got blacklisted for not naming names. But Zinnemann and Cooper did stand up for him and prevent him from getting kicked off the movie.
John Wayne (who actually accepted Cooper's best actor Oscar for the movie) was quoted as calling it "the most un-American thing I've ever seen in my whole life" and said he and Howard Hawks made RIO BRAVO in response to it. From the sounds of it their position was that Kane was a pussy to go around looking for help and should've just done it by himself in the first place, like Rambo would've done. But I don't get that, because in RIO BRAVO even though Chance turns down help from the town he does have a couple guys to help him, an old man and drunk ass Dean Martin. Kane chose not to let his drunk friend help him, he went it alone. He'd have grounds to call Chance a pussy but he'd never do it because he's a gentleman and a newlywed.
I mean I like John Wayne but that's kind of a dick move when a guy totally sacrifices himself and you tell him that's just not enough. Kane thinks it's suicide and he does it anyway. He sits down and writes his last will and testament first. I hope that friend of his who "wasn't home" wasn't included in it.
This black and white cinematogacism looks gorgeous on the blu-ray, and ol' Zinnemann Toast Crunch shows some impressive directorial chops. You know, it's mostly pretty normal and stationary but then he throws in some fancy shots for emphasis, like when the judge asks if he remembers Miller threatening his life while sitting in that chair right there, and the camera zooms in on the empty chair as you picture him doing it. Then much later in the movie they repeat that shot to remind you of the threat.
One impressive thing is that this is pretty close to real time. It's the original 24! It's all leading to a big shoot out of course, and that's well done. But like so many things the anticipation is the best part. It really captures that feeling of the clock ticking down and the Marshall getting that sinking feeling as it becomes more and more clear that he'll be standing there all by himself when that train pulls up. A great theme song by Tex Ritter fades in and out like a light breeze blowing through the quiet town, haunting him as he waits for the hammer to drop.
It's interesting, because this is such a famous title that I want to assume it's typical of the classic westerns. But reading about it I see that at the time it was considered very unconventional for concentrating on the civics instead of shootouts and Indian attacks and shit. Variety called it "more of a western drama than the usual outdoor action feature." Bosley Crowther wrote in the New York Times that "Every five years or so, somebody – somebody of talent and taste, with a full appreciation of legend and a strong trace of poetry in their soul – scoops up a handful of clichés from the vast lore of Western films and turns them into a thrilling and inspiring work of art in this genre."  It sounds like for them it was the kind of movie I love to see now, one that uses genre trappings successfully but in a different way that sort of challenges the idea of what that genre is supposed to be. As Crowther called it, "a rare and exciting achievement."
It's a solid movie all around. I guess they knew what they were doing when they made it a classic.