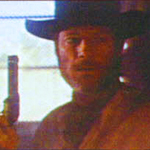 "He's crazy. He'd charge Hell with a bucket of water."
10 years after Clint took his acting/directing to new heights with THE OUTLAW JOSEY WALES, the less known character actor Michael Parks (DEATH WISH V: THE FACE OF DEATH, KILL BILL, TUSK) took over the role for his one go behind the camera. He was, uh… less successful than Clint was.
When I was reading about Forrest Carter, the Klansman turned acclaimed Native American author who wrote the book that THE OUTLAW JOSEY WALES was based on, alot of the bios mentioned that after the success of the movie he wrote a sequel called THE VENGEANCE TRIAL OF JOSEY WALES and tried to turn it into a screenplay. They did not mention that the screenplay had been turned into this.
At the start of the movie Josey is off somewhere living a life of peace thanks to everyone who conspired to pretend like he was dead at the end of Clint's movie. But some of his friends from the saloon, Kelly and Ten Spot, are still around, and reminisce about him sometimes. If I didn't look it up I'm not sure I'd know they were connected to the first movie, since they're not the most memorable characters and they're played by different people this time. But I'll survive. (read the rest of this shit…)