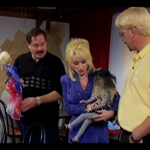 NOTE: It's October now, and you know what that means: Slasher Search and horror review avalanche. I have saved some action reviews to include for variety and will do some new releases but otherwise I'll be on a strict slashers and monsters diet for the next 31 days. But before we kick that off I really need to polish off an unfinished project from months ago. Way back in May I visited the state of Tennessee, I had a great time, wanted to write a little about it, and found an excuse, starting with this documentary about Dolly Parton fans.
* * *
I used to think I hated country music. I mean, I watched the Mandrell Sisters Show and some Kenny Rogers movies in the '80s, that's about it. To me, Dolly Parton was just the lady from BEST LITTLE WHOREHOUSE IN TEXAS and 9 TO 5 and stuff. It wasn't until way after the fact that I noticed what a saint that lady was. Remember she did a song for TRANS AMERICA? She just seems so relentlessly positive and non-judgmental. Also, some of that stuff she sang when she was real young – "Jolene," "Coat of Many Colors" – I realize now that I like some of that stuff.
(although come on Dolly, you gotta put the responsiblity for this one on your man, not on Jolene.)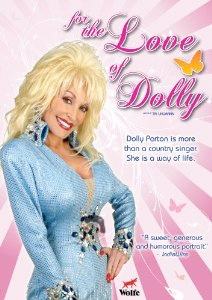 But to the five stars of the 2006 hour-long documentary FOR THE LOVE OF DOLLY, Parton is much more than a nice lady with some good songs. I'd say she's like a religion to them, but very few people are that religious. These are hardcore Dolly Trekkies. Their homes are overflowing with Dolly ephemera: photos, posters, cardboard cutouts everywhere you look.  Patric and Harrell have the most impressive collection, including an official Dolly pinball machine and a display case with her actual dresses crammed into a not-museum-sized house. (They're worried about having to move into the garage.) They also have an army of Dolly dolls that we later find out were hand made by Harrell.
The craziest collection would have to be Jeanette, who (from what I understand) lives in her mom's backyard in a re-creation of the "Tennessee Mountain Home" Dolly was born in. Actually, a re-creation of the re-creation that's in Dollywood, Dolly's own theme park in Pigeon Forge, Tennessee. The characters here are all tied together by their pilgrimage to Dollywood's annual opening parade. (Unlike Disneyland it's not open all year round. "Working 9-5" implies weekends off.)
I can show you some stills, like, say, this typical talking head shot…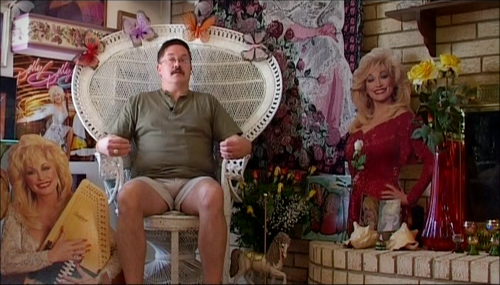 …and it'll seem like the movie's mocking these people. But that's not the case. It's a very sympathetic portrait. I would guess that rookie director Tai Uhlmann probly is at least a casual Dolly fan who gets a kick out of their obsession.
It's easy to see how Dollymania improves David's life. He was born with cerebral palsy, and his parents say that having something like that to focus on has really changed him for the better. His childlike enthusiasm is cute, you gotta respect him wearing home made sweatshirts with pictures of himself meeting Dolly, and making little gifts to run up and hand her at the parade. Even the security guys smile.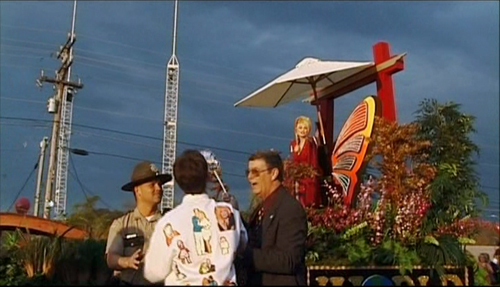 Patric and Harrell make sense too. They're a gay couple, and it doesn't have to be said that living their lives where they do is not always easy. Later we learn of a really sad chapter in I think Patric's life (I forget which one it was) where he was married to a woman and denying his true self. When he came out his family disowned him. For these two, worshipping Dolly – which includes buying dresses, making dolls, wearing glitter, singing womanly songs – is a rebellious act. And Dolly, who they get to meet by winning a charity auction, represents complete acceptance, no judgment.
But these other two, Jeanette and Melissa, creep me out. When I first saw them in their elaborate buttefly costumes at the parade I thought I liked them, that they seemed like fun, creative people.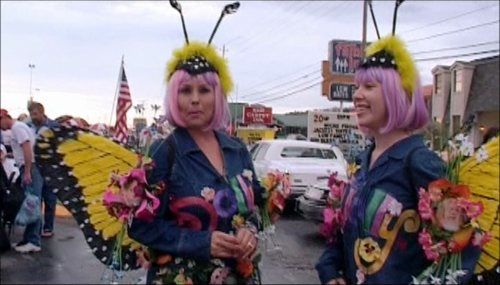 But they quickly show the desperation of stalkers and the classic back-away-slowly-don't-make-eye-contact lack of self awareness about how deep they've gone in. Melissa seems more innocent, and you get a glimpse into her psyche when she talks about trying to escape from a traumatic childhood by pretending Dolly was her mom or aunt. (She drops names of apparent Parton family members as if we all know who they are.) Jeanette's origin story is left a mystery, and I'm disturbed by her never-discussed, meticulous re-creation of Dolly's modern hairstyle, and what I suspect is a nose job adapted from photos of Dolly's nose.
In the movie's most troubling scene these two sneak inside an unlocked car in a parking lot that they somehow know Dolly's best friend drove her in. They crawl around and giggle in delight as they find hairs on the floor (which they greedily shove into their pockets, excited that one has a root). I didn't understand how they found the car, but apparently they're correct about who it belongs to because they find two insurance cards on the floor for Dolly and her best friend. This is a genuine privacy violation because seeing it caused me to consider certain things about their personal lives that are not my beeswax.
Then Jeanette, she uh… well.  She smells and, you know, tastes the seatbelt.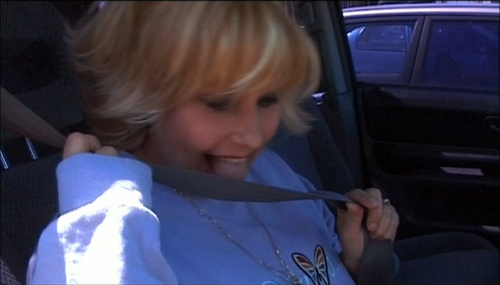 There's a scene where Melissa says she used to think she'd work for Dolly, and how loyal she would be if she did, but she says they would never hire a fan. She seems unaware of how uncomfortable their type of obsession would make a person, how unreasonable and unhealthy it seems to the outsider. Dolly has to have encountered them enough to notice that they're wacko, but she still goes out of her way to be nice to them. When they charge her float in the parade, as the security guards drag them away, she asks about their puppies.
I dug this movie, but I think I'm reaching my threshold on these crazy fan docs. Years ago I was captivated by the first TREKKIES, and there was that crazy one about the Tiffany fans. But as I get older this stuff stresses me out more than it benefits me. Maybe you gotta be kinda young to go to freak shows.
What I really wonder is what the guys, Patric and Harrell, think of the gals, Jeanette and Melissa. Do they make them squirm too? I bet they do.
* * *
I watched this the week before my trip to Hollywood, which was weird because there were pictures of Dolly all over Hollywood Boulevard advertising a country music exhibit. Then when I came across Parton's star on the Walk of Fame I remembered the scene where Jeanette and Melissa cleaned it and covered it in lipstick kisses.
But the reason I watched it was a trip I'd taken to Tennessee a month before, the week of Mother's Day. I was there for Family Shit and got to travel across the state and do a bit of the ol' tourism. One of the first things on the agenda was a day at the other ollywood, Dollywood.
While the park is a Mecca for the Trekkies in this documentary I didn't see any Dolly worship going on. Everybody seems like locals, or classes of kids on field trips from an hour or two away. The lady at the car rental place in Knoxville spoke highly of it, but warned not to buy air brushed shirts, though it will seem like a good idea at the time.
According to Wikipedia there are 3,000 people working for the park, the biggest employer in the area, fulfilling Parton's dream of bringing jobs to the community where she grew up. The staff seem happy, many of them probly retired from other careers, all of them incredibly friendly. As we entered the park, the grey-haired lady who scanned our ticket said "Y'all have a Dolly day!" And we did. I got called "sweetheart" a few times. There's a scene in the movie where a staff member gets testy about Jeanette and Melissa being in an off-limits area – I figure they must've pushed that poor lady pretty far to get that reaction. I bet everybody that works there has a horror story about those two.
A woman selling me a burger at Red's Drive-In got star struck, mistaking me for somebody who used to be on Saturday Night Live. (Seagal?) I wonder if they get alot of celebrities there just as tourists? There's a spot called Friendship Fountain (formerly Friendship Gardens) with Hollywood style stars for Dolly's famous friends who have visited, including many singers and co-stars and both Dukes of Hazzard (separate stars). If I was a celebrity I would do whatever it takes to earn one of those.
I heard a staff member asking a family if they enjoyed one of the roller coasters. "And what about you squirts?" she asked the kids. I'm a visiting-the-south rookie, so it's still interesting to me to hear people talk. The thicker the accent the more adorable. I was excited just to hear teens calling each other "numb nuts." It's different with the accent.
There's some theming around Dolly's loves and era – the Smokies, eagles, butterflies, a '50s area called "Jukebox Junction" with a diner and old timey performers – but they can't compete with the big guys on attention to detail. Their bread and butter is roller coasters. (Well, I guess technically their bread is fresh made cinnamon bread. Why didn't I try that? What was I thinking?)
The map lists six "High Thrill Attractions." The newest attraction (only a couple months old), the FireChaser Express, was actually closed, but that was one of the 11 rated "Moderate." There's a river raft ride (you get soaked), a flume ride, a zipline, stuff like that.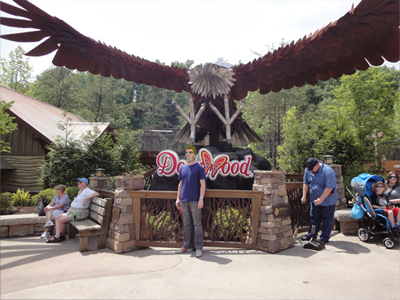 I guess Dolly loves eagles. There's a big netted area in the middle that's an eagle sanctuary. Kinda depressing to look at though. But the poor once-endangered things inspired the park's best thrill ride, the Wild Eagle. This is only about two years old and apparently the most expensive ride at the park so far. It's a rollercoaster except you're beside the track instead of on top of it, and you're sitting there with your feet hanging loose. Instead of a train it's a line of seven eagles with two seats attached beneath each wing.
From the line you don't get a good look at the track, and I made a point of not peeking at any of these. No spoilers. Just get on everything not knowing what you're in for and trusting in the safety provided by theme park professionals. But that made this one fucking horrifying. Pretty close to the beginning you plummet straight down (135 feet at up to 61 mph) and then shoot through who knows how many loops and curves (according to Wikipedia: a vertical loop, a zero-gravity roll, an "immelmann loop," a corkscrew, a "camelback hill," some other stuff) and the whole time you feel like your feet are gonna hit something and get hooked and torn off and you will stare in horror as your stumps pump bursts of crimson mist over Wilderness Pass. Or at least your shoes will fall off.
I'm pretty tall but a relative who's huge said they told him maybe he should pull his feet up to be safe. He didn't feel too good about that.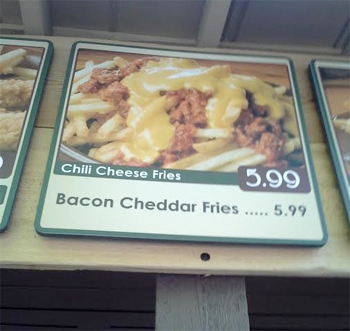 That's a modern re-invention of the rollercoaster, voted Best New Ride of 2012 in Amusement Today's Golden Ticket Awards. Which is a thing I have always been totally aware of and didn't just copy from Wikipedia. On the oppoysite end of the spectrum there's Thunderhead, built in the style of the old wooden rollercoasters. Those things are bumpy as shit and knock you all over the place, so I knew as I waited in line that it was a bad idea to be going on this while trying to heal a sore neck and fighting a fierce headache. But this was my one day at Dollywood and I was not gonna puss out. Even at peak skull pain I was like you know what, one more time on the Tennessee Tornado. And it was the right decision.
A ride with more of a story to it is Mystery Mine. There are all kinds of high speed turns and steep plunges into darkness in what's supposed to be a haunted mine. There are ravens with glowing eyes, explosions, rock slides and spook house things like that. Kind of chintzy, but as a thrill ride it's sophisticated and intense.
My favorite though was Blazing Fury, a goofily crude rip-off of Pirates of the Caribbean themed around a fire and the heroic volunteer fire fighters who tame it. Like Pirates you coast through a burning village at night, there's a jail with inmates trying to escape, and you have some small plunges into darkness. There's also a Mr. Toad's Wild Ride style close call with a train and a graveyard groundskeeper like The Haunted Mansion. But the characters are more like slightly moving mannequins than meticulously designed animatronic characters.
There's even a lift from the infamous Pirates scene where (originally) a pirate was chasing a woman, trying to grab her for immoral purposes, then another woman was chasing a pirate like the tables got turned somehow. In Dollywood's version it's just a woman chasing a man. I wondered if maybe the heat made me imagine the whole thing, but Wikipedia confirms a sign that says "Looking for a husband. Any size or shape" and that the woman says "Come back here you big strong, handsome hunk of man. I wanna kiss on you some," to which he replies "Kiss? It looks like you've been kissin that steam train!"
Here's somebody's home videos (Mostly indecipherable, but it'll give you an idea).
Apparently it was built in 1978, before Parton owned the park, when it was called Silver Dollar City Tennessee. I like the ricketyness of the whole enterprise. Toss some skeletons around and it could be something the Texas Chain Saw brothers would build. Also, hats off to the ride announcer, who talks like a local country DJ, riling up the crowd to yell "Fire in the hole!" with him as he launches each train. It seems to be a locally famous catch phrase, or at least he likes to think it is. (Turns out it's the name of a similar ride at the original Silver Dollar City park in Branson.) And he clearly loves what he's doing. Mystery Mine had a similar host, a woman whose spiel is more like a cattle auctioneer.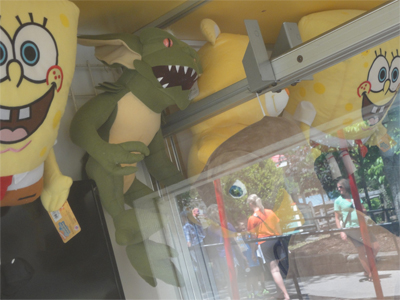 I'm not made for a hot climate, but they got it figured out there. You have to walk around in the blaring sun (like Riddick on that one planet) but the lines are all under cover, and in some spots there are huge fans that blow a light, cool mist, and there's a kiddie ride called River Battle where passersby can exchange squirt gun volleys with the riders from a bordering pathway. The experience helped steel me for the increasingly hot summers here.
Some might think a celebrity having a theme park named after themselves is an act of egomania. Fuck that. She built this place up, and the more Dolly the more campy fun to be had. I actually thought there wasn't enough of her music playing on the sound system. I heard they used to exclusively play her music like you would assume, but when I was there it was just a handful of her best known songs in the rotation with other people's music. I remember some corny patriotic country song, but not many other specifics. I shoulda took notes. I do remember taking a dump while "I Just Called To Say I Love You" played on the speakers in the bathroom. Sorry. Just telling it like it is.
Like any theme park there are gift shops all over the place, selling every souvenir you can imagine. But the vast majority of them involved logos and butterflies and stuff, not photos of Dolly. There was some pretty great drinkware with weird likenesses of Dolly, but they were personalized and leftover from last year's collection so I guess the common names like Vern got snatched up long ago. The closest I could find was "Isabella."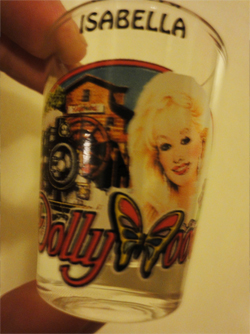 As I'm sure Jeanette is well aware, there' a store called Dolly's Closet where you can apparently get clothes like Dolly's. Though not straight out of her actual closet as Jeanette would prefer.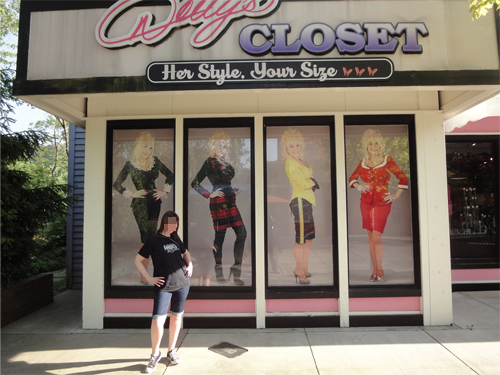 There are also some exhibits about Parton's history, but most of them were closed when I was there, including her old tour bus "Dolly's Home-On-Wheels," and a museum called "Chasing Rainbows: The Dolly Parton Story." I didn't make time for "Dolly Parton's My People" at the Dreamsong Theater, where a pre-recorded Dolly performs with a live band that, if I understand correctly, includes members of her family.
The most Dolly-centric thing I saw was a 20 minute movie called "Heartsong," playing in a theater with artificial trees, rocks and water along the edges. Or as the official literature puts it, "In this multi-sensory film experience, Dolly Parton takes you on a breathtaking journey through the Great Smoky Mountains as she shares her story about a place very near and dear to her heart. "
To be frankly honest I fell asleep through most of it, but I know there was a part with an animated butterfly while she was singing "Love is Like a Butterfly." Oh yeah, here it is:
Director Don Regensburger also directed Voices of the Prairie for the Prairie Expo museum in Minnesota, and was sound and lighting technician for a 1980 driver's ed film called The Last Prom. Spoiler in title, I believe.
Like Disneyland, Dollywood has a vintage train that goes around the park. The locomotives were built in the 30s and 40s and brought to East Tennessee in 1961 as an attraction unfortunately named Rebel Railroad. In '66 it became Gold Rush Junction and in '86, when Parton became part owner of the property, it was renamed The Dollywood Express. There's not a huge amount to see, it mostly goes around the wooded areas, but you get some good views of the park. The thing about it is, these are actual coal-powered engines, so they warn you to be careful of getting cinders in your eyes, and you get soot all over you. It's pretty nasty. When the guide said proudly that she burns more than two tons of coal a day it didn't seem like that good of a brag. I don't think you could have this ride back home. We're not even allowed to have plastic bags.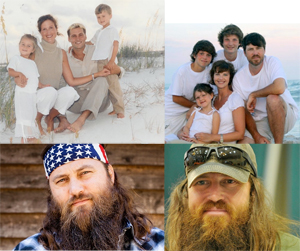 I know there are many stereotypes of people from the south, ones that could come into play when you're at a country singer's theme park where people walk around eating whole turkey legs. I will admit that the Dollywood crowd did make me feel like I was in the top percentile of physical fitness. But I also felt like I was among good people. A rare negative feeling came when I saw a rack of Duck Dynasty t-shirts prominently placed at the front of one of the gift shops. Hopefully our overseas friends will need me to explain that Duck Dynasty is a popular reality show supposedly about a colorful family of backwoods rednecks who got rich by selling duck whistles (from what I understand though they're complete phonies from head to toe; the kids at least were cleancut pretty boys before they grew the ZZ Top beards to seem like good ol' boys for the show). Anyway one of them got in trouble with the A&E network when in an interview with GQ he made some anti-gay comments and claimed that black people were happy and never mistreated where he was growing up "pre-entitlement, pre-welfare."
This is not a show I would watch anyway so I don't care too much about how A&E handled it or whatever, but to be selling t-shirts of the dude's face at that moment in time seemed like a defiant act, not in keeping with Dolly's message of acceptance, but more the Fox News us-against-them, liberals-are-trying-to-ruin-the-world-why-can't-we-hate-gays-like-we-thought-it-said-in-the-Good-Book-somewhere type of world view. It was the rare time I felt like an intruder in Tennessee.
Except then when I got home to Seattle I saw them hocking Duck Dynasty shit in a Walgreens. So Dollywood's no guiltier I guess. And for what it's worth I did see a couple of young tattooed women holding hands, and a ride operator who, let's say, would fit in real well at a Storm game. And I didn't see anybody giving them any shit.
I didn't get a chance to see the rest of Pigeon Forge, which somebody told me was "Redneck Vegas." Judging from the billboards on the highway they must have some pretty good shit goin on in the area.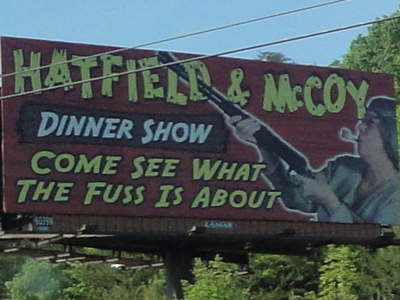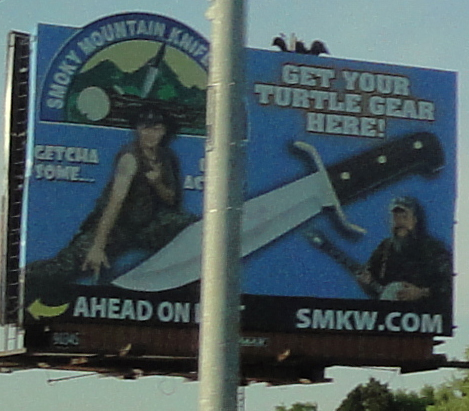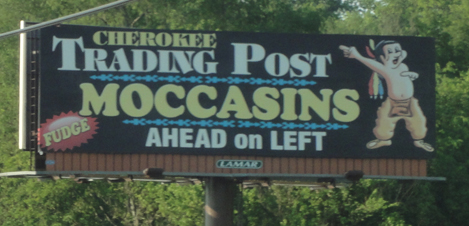 I didn't get a picture of it but one of the things I saw alot of signs for was what I thought was a stage show about the Titanic. Turns out it's a museum of questionable taste that opened in 2010. The building is shaped like the ship (half scale), built inside a pool, you get a ticket with the name of a real passenger and are able to touch "a real iceberg."
Wow. Unrelated to that, I really like Tennessee. I gotta go back, you guys.
NOTE: This will be part 1 in a trilogy or tryptych of reviews tied in to my Tennessee trip. Don't worry, the other ones won't be as long and detailed. They only got one Dollywood there.

This entry was posted on Wednesday, October 1st, 2014 at 12:50 pm and is filed under
Documentary
,
Music
,
Reviews
. You can follow any responses to this entry through the
RSS 2.0
feed. You can skip to the end and leave a response. Pinging is currently not allowed.