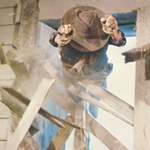 Sometimes something you never thought would happen happens, and you can hardly believe it. For example when they finally freed Mandela, or a couple days ago when Obama announced he was normalizing relations with Cuba, or in this case when they re-released the legendary 1981 3D movie COMIN' AT YA! in modern digitally projected 3D.
This is a very limited release I'm afraid, I doubt it'll come to too many of your cities, if any, and I know most of you are like me and don't have a 3D TV if it ever comes to that. But if you like seeing things poke out of a screen then definitely check and see if it's possible to catch this one. It's a treasure.
The title COMIN' AT YA! is not a lie. Especially the exclamation point. The stereoscopic mission statement of this movie is in extreme opposition to the modern conventional wisdom that it's bad for 3D to have gimmicks and things reaching out at you. The philosophy here is to stick knives in both eyes of the modern limp 3D and then pull them out and then jab them in and repeat and repeat and repeat. To date I think my favorite 3D experiences have been FRIDAY THE 13TH 3D and the three Robert Zemeckis mocap movies. Even compared to those, this is by far the 3Dest movie I've ever seen.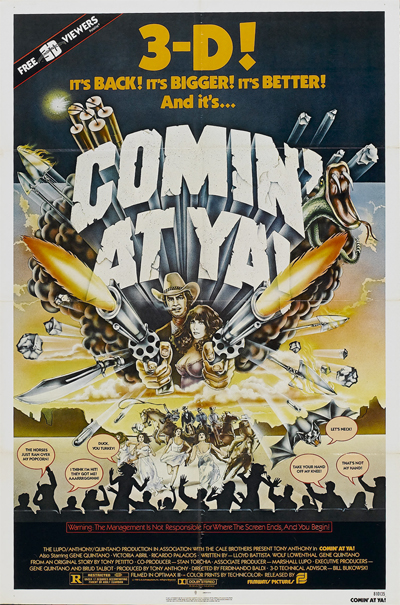 It's a spaghetti western, so you'll find many, many guns pointing at you and firing at you. You'll have knives stabbing toward you. You'll have hands reaching to grab your face. A whip, a lasso. Creatures that come at ya include a couple different snakes, some rabbits, turkeys, a crow, a vulture, a swarm of fake bats, a mob of wet rats, a scorpion. No spiders, thankfully. There's alot of camera-on-the-ground-looking-up as things are poured on it: gold coins, water, various grains and legumes. There's alot of smoke, some dust clouds, some splashing water, some fire. Like FRIDAY THE 13TH 3D there's a yoyo gag. For me the most cringe-inducing gimmick is a woman cleaning her baby and shoving baby ass right at the audience. (If this was American the baby would definitely pee.)
I heard somebody gasp during the rat scene. One of the villains is tied up and has real rats crawling all over him and supposedly biting him. One crawls up a stick pointing toward his face, and by extension into ours. When he's rescued the rats all come at us again as his savior pulls them off him one by one and swings them back in our faces.
I believe I've seen this referred to as a "spoof" before, so I was pleasantly surprised to find that it's not that at all, it's a straight spaghetti western. I think it's knowingly over-the-top in its stereoscopic gimmickry, but there's not jokes or winks. I guess it probly seemed goofier because for decades it's only been available on flat home video, where every obvious 3D gimmick is even funnier.
The story is pretty classical: This guy Hart (Tony Anthony)'s wife Abilene (Victoria Abril, 101 REYKJAVIK) was kidnapped by rapey bandit brothers, he tracks them, rescues her, gets his revenge on the motherfuckers. The guys who did it are true sleazeballs. The fatter, hairier one he finds in bed slobbering on a beautiful, very young and unwilling girl (the mother of the aforementioned three dimensional baby). Hart's wife is still alive, forced into sex slavery. When he gets to her she's being groped by two men in the middle of a giant feast/sex slave auction. One of the heartless 1% bidders (a woman, even) quibbles about Abilene's cash value and is skeptical about her alleged virginity.
If you're gonna put in the elbow grease to use real 3D cameras, especially back when you had to do it on film, obviously you're not lazy, you're gonna do an elaborate production. So this is an especially detailed western, lots of big artful sets, lots of extras and props, and nice visual storytelling, long stretches with zero dialogue. When there's a scene in a dungeon full of sex slaves, it is a dungeon full of sex slaves. Like, a pretty sizable dungeon, with multiple levels, and nowhere to stand because there are women laying everywhere. Surely this is not just a violation of human rights, but also of the fire code. It's shown to be a genuine workplace danger, because when bats fly in and they get scared at least one of them falls to her death. (In 3D.)
Anthony makes for a kinda funny western anti-hero. He looks more like Dustin Hoffman than Eastwood or Bronson, but he has the right attitude to pull off the cold-blooded avenger badass character. He was in alot of movies from this director, Ferdinando Baldi, but he wasn't just an actor. He produced and provided the story on this, which he also did for Baldi's other 3D extravaganza TREASURE OF THE FOUR CROWNS (1983). Gene Quintano, who played Pike (the fat one? I'm not sure), also produced and co-starred in both movies.
Too often in the modern age I go to see a 3D movie and at the beginning it looks cool and then before long I forget it's 3D, and if I remember sometimes I have a hard time being sure whether it's still three dimensional or not. I assure you that does not ever happen in COMIN' AT YA!. Even aside from the gags it's just so full of depth and dimension. Many shots are composed with things in the foreground: grass, rocks, a column. I don't know if it's the way it was shot or the way it was restored, but somehow the world of the movie seems hyper-dimensional. In the scene where Hart first talks to his bagpipe-playing, wagon-driving sidekick I couldn't stop staring at the guy's cartoonishly pointy nose poking out at us. Amazing.
It's actually such intense 3D that your eyes have to do alot of work, and I could feel it right away during the opening credits. Don't be intimidated, though. You'll adjust. I believe in you. You can do it. If you ever get the chance. I don't know if this helps anybody, but that "tugg" thing where if you get together enough people you can host your own screening at participating theaters, that's one potential way to get to see this.
As a fan of 3D this is a real treat. Despite the advancements in technology that make 3D much easier to shoot and to release (and even possible to have on home video), very few filmatists have any respect for it as a medium or even as a novelty, so this opportunity has been mostly wasted and audiences have been burned enough that its popularity, at least in the United States, has died off. One rare believer is the aforementioned Zemeckis, whose upcoming THE WALK (about the MAN ON WIRE story of tightrope walking between the World Trade Center towers) seems to be a live action version of his mo-cap approach to a 3D showcase. So I look forward to that one.
Anyway, I hope somehow COMIN' AT YA! will be profitable, because we need remastered re-releases of vintage 3D movies. It was great to see DIAL M FOR MURDER and now this. Still on my wish list: JAWS 3-D. Also, how 'bout putting a 3D Popeye cartoon on one of these bastards? Let's go all out, people. Let's do this. YES WE CAN!