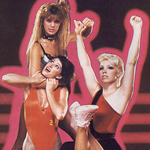 Do you guys remember G.L.O.W.? Back in the '80s, specifically 1986-1990, it was a weekly televised all women's wrestling event. What I remember is it was taped in what looked like a hotel banquet room (turns out it was in a casino). And because of the time it happened there was alot of big hair, alot of glitter, alot of shiny aerobics type outfits. And face paint.
This movie is one of these nostalgic documentaries we're gonna start seeing even more of because of Kickstarter. It's HEY, REMEMBER G.L.O.W.?: THE MOVIE. Not alot of substance. But it's an unusual topic that's interesting to me, so I enjoyed the stroll down memory lane.
The director Brett Whitcomb and writer Bradford Thomason actually did another nostalgic documentary about a colorful pop culture oddity that only could've happened in the '80s, THE ROCK-A-FIRE EXPLOSION. I recommend that to anybody that wants to see a movie about the animatronic bears and gorillas and shit that played music at the Show Biz Pizza chain, the weird guy that invented them, the crazy coke-fueled hey day when the company was on top of the world, the inevitable downfall, and the dilapidated warehouse where he still keeps all the old crap he has left. That's real interesting stuff, GLOW actually seems kinda predictable compared to that but, you know, it's about women who used to paint their faces and wave chainsaws around and rap and bodyslam each other on TV. I'm gonna watch it.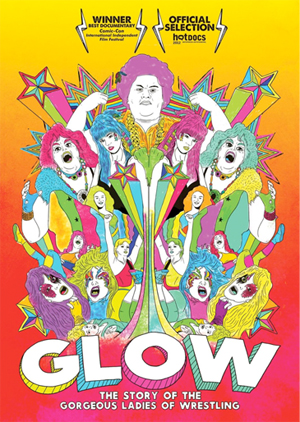 G.L.O.W. was during the same period when WWF was very mainstream, had a cartoon, toys, and a reocurring NBC special airing instead of Saturday Night Live. But G.L.O.W. was different, it was even more of a cartoon. I forgot all this, but the movie reminded me. They did little comedy skits between the matches. Not just in the ring or backstage, but at "The G.L.O.W. House," where they all lived, the good guys rooming with the good guys and the bad guys with the bad guys. It turns out this was kinda real, they made them live together and fined them if they were caught associating with the other side! I guess that's in the tradition of James Brown and MC Hammer fining their musicians and dancers when they screwed up.
Some of their characters are comedic too, and much funnier than the skits. The movie shows a bad guy tag team called "The Housewives" who wear bathrobes, curlers and facial mud, whine about the ropes being too high to climb into the ring and criticize the other wrestlers for dressing like "tramps." So there was more going on with this show than I remember picking up on at the time.
Another thing I forgot about: the rapping. they did all these big group numbers with lyrics and flow that make the Super Bowl Shuffle look like Supreme Clientele.
There are clips from the episode of Donahue when they talk about what it's like to be lady wrestlers and then Phil Donahue gets in the ring with some of them. I definitely remember watching that. Do you guys ever miss Donahue? I do. If they had a channel that just showed old Donahue episodes I have to admit I'd probly watch it alot. Probly best that they don't. Yet.
I remembered The Farmer's Daughter (she's country, she doesn't know better than to wear Daisy Dukes to a sporting event). I remember Tina Ferrari. We liked that kind of stuff back then. If I could go back and do it over I know Ninotchka would be my wrestling dream girl. She was the Nikolai Volkoff type bad Russian who shit talks America to get the crowd going, but she had blond New Wave hair. She looked a little bit like Brigitte Nielsen, alot like Debbie Harry. Even today.
Even without remembering all of them it's interesting to see what an ex-gorgeous-lady-of-wrestling is like. Some of them seem like actresses who maybe were in a cult movie a long time ago, some just seem like normal civilians, and only Matilda the Hun acts like a pro wrestler for life.
The heart of the movie is Mountain Fiji, a big Samoan lady who was a shot putter before GLOW. Everybody seems to adore her and now she seems like the one who misses those days the most because she's laid up in a nursing home. She cries talking about it, seems like a very positive individual, even admits a crush on the head honcho guy everybody else said was an asshole.
They say that GLOW sort of became a kid's show, just because that's who it was popular with. And the documentary is mostly wholesome. I think there's a part where the crowd chants "bullshit," but otherwise it's suitable for teaching your daughters to beat each other up. But there's one part that's pretty disgusting, a horrible injury where a wrestler does a move wrong and gets her elbow dislocated. It looks like a skeleton arm wrapped in loose latex. She claims she didn't get upset until later when they told her she'd have to wear a cast, and I believe it. They show her leaving the ring with the monster arm and a big smile on her face. I don't know if that's a real tough woman there or a really creepy example of being able to smile through anything.
The making of the movie apparently inspired a reunion, so it follows the ladies getting back together at a hotel, hugging, reminiscing. It's sweet to see Fiji, making a big deal about looking nice, loving seeing everybody, reciting her terrible raps, admitting her crush on that guy. He's there and he's a mystery. He seems to have a strong bond with some of them and also a sense that there are some hard feelings. He leaves early and you wonder what he's thinking as he walks away.
He declines to be interviewed. They talk to a writer/referee and Mondo Guererro, a veteran wrestler and a real entertaining nut who was the trainer and choreographer for the ladies. It was cast from actors and models like a TV pilot. That's interesting, because to me it seems like some of them are really good, quicker and more acrobatic than their dick-having counterparts. Maybe it's their smaller bodies, or maybe you wrestling connosseurs would disagree. Anyway he brags about knocking a girl out with a sleeper hold on the first day to make them take it seriously. Other than this it's all the women's point-of-view, which is pretty cool.
I was happy that it also avoids the common documentary short cut of interviewing fans about why they love the thing, or unrelated celebrities lending their endorsement. I do wish there was a slightly more journalistic bent to it, though. There are two really interesting rumors mentioned (1, that the show was designed as a tax write-off and wasn't intended to ever get so popular, 2, that the reason it was cancelled at the height of its popularity is that the financer's wife, Pia Zadora, found out he was cheating with some of the wrestlers) but no sign that these were investigated any further by the filmatists.
It's not one of the great wrestling documentaries, but it's a warm little portrait of some interesting people talking about an interesting time. I definitely recommend it for anybody who has a fond memory of watching that show, or wants to see proof that it existed.
This entry was posted on Wednesday, April 17th, 2013 at 1:39 am and is filed under
Documentary
,
Reviews
,
Sport
. You can follow any responses to this entry through the
RSS 2.0
feed. You can skip to the end and leave a response. Pinging is currently not allowed.