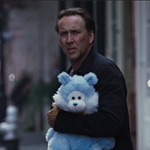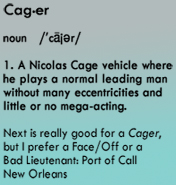 From the director of THE EXPENDABLES 2 and a synonym for the word "TAKEN" comes this mediocre Cager about a "master thief" whose disgruntled ex-partner kidnaps his daughter.
Mr. Cage plays Will "Gum" Montgomery, the leader of a crew of thieves about to heist $10 million in cash from a bank vault. The FBI (Danny Huston and Mark Valley) are hot on their trail, staking the place out, SWAT team at the ready. But when I say "the place" I mean some diamond place that the crew decoy-cased to throw the man off their scent.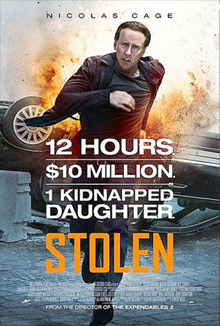 Still, the feds almost catch up with them and they have to make a run for it. We know Will has the ol' H.O.G. (heart of gold) because
1) right before the job he talks to his daughter on the phone about Care Bears
2) he goes out of his way to not crash into an innocent woman when chased in a stolen police car
3) he looks regretful when he sees family photos inside said police car
so when they flee into the alley and an old man taking out garbages says "Hey, what are you young fellas doing?" you know which side of the "do we shoot the innocent witness" inter-crew policy disagreement Will comes down on. He has to subdue his safecracking partner Vincent (Josh Lucas), who accidentally shoots himself in the leg during the struggle, and is not happy about that. Then the getaway driver (M.C. Gainey) panics and takes off without Will or the money.
Will goes down, but burns the money first for sentencing purposes, so when he gets out 8 years later everybody thinks he hid it somewhere and will go get it. Not just the feds, but Vincent, who needlessly faked his death and is secretly working as a cab driver so he can pick up Will's daughter Alison (Sami Gayle) and hold her ransom for the money Will doesn't have and make up rules like I will call you and if you don't answer within 8 rings she'll die, sort of like DIE HARD WITH A VENGEANCE but easier. The only time this really becomes an issue is when Will gets arrested and his phone is in the front seat so he has to dislocate his thumb to get out of handcuffs and cause the car to flip and get out and answer it in time. (Seems like more than 8 rings though.)
Meanwhile his daughter is in the trunk of the cab trying to escape or get somebody's attention. There's kind of a cool part where she manages to tear her hand through the seat but still can't get the attention of a dipshit passenger.
I guess with this premise you could go two ways. One is that he uses all his know-how and street knowledge from being a thief to try to catch Vincent and get his daughter back, the other is that he tries to pull another heist to pay him the money. They go with both. Conveniently there was a big pile of gold bars that they left behind during the first caper and the bank did not think to move them or anything, so he has a plan and brings in another one of the old partners, Riley (Malin Akerman), now a friendly bartender but willing to do anything to help her old friend.
I still think of Akerman as Cameron Diaz 2.0, and similar to WANDERLUST she's kind of this male fantasy of a hot girl who talks openly about sexual matters without batting an eye. But it's not very clear why she's so important to the heist other than that he trusts her and he can hand tools to her and stuff when needed. Her character could be stronger but I do like looking at her and I always think it's cool when there's a male-female friendship that does not turn into love or sex. Well, I guess at the end (SPOILER) they seem to be living together and raising the daughter (not sure how the ex-wife agreed to this) but before that they just appear to be partners. I suspect it was written for a man but then they realized they should have some boobs up in this joint.
This is merely a watchable movie, not a good one. One thing that holds it back is that it's one of Cage's normal guy roles that he doesn't add much flair to. The exception is a bit in the opening that I assume he suggested, where he has a superstition that he can't start the robbery until they've all listened to a Creedence Clearwater Revival song. Later, in the only scene that hints at mega-acting, he yells at Vincent over the phone about Creedence.
Lucas actually goes more mega than Cage. You remember who he is? A handsome guy who was in Ang Lee's HULK and David Gordon Green's UNDERTOW, plus AMERICAN PSYCHO and STEALTH, and he's still around obviously (he played Lindbergh in J. EDGAR) but it seemed to me like when Hollywood came out with Bradley Cooper it kind of took the wind out of Lucas's sails. Here he opens the movie as the clean-cut Lucas we remember: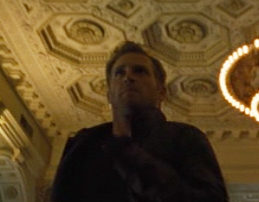 but we hear that during Will's incarceration he "had a tough time of it" and "I mean, he went really dark" and "he was hanging out with a sketchy crowd, you know" so when we see him again as the bad guy he looks like this: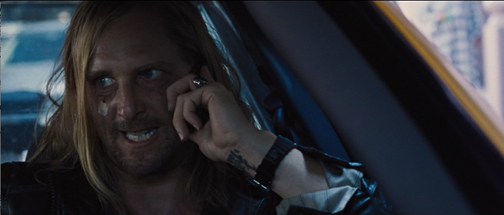 Oh, and I guess the bullet wound must've gotten a real bad infection: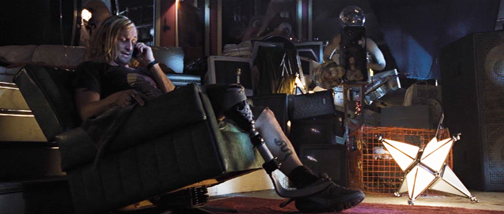 So he gets to be pretty over-the-top, which is something a guy with leading man looks like that doesn't usually get to do, so you can tell he's having some fun and that's a little contagious.
Like so many low budget movies now, this takes place in New Orleans. It's getting a little old, but they put a little bit of the New Orleans culture in there by having it take place on Fat Tuesday, and Vincent's hideout seems to be a warehouse where they keep Mardi Gras parade props (nod to TIGHTROPE? or HARD TARGET?), and they got a few of the expected colorful Cajun supporting characters and what not.
Maybe the best use of the location is the foot chase during the parade, which uses the sound of street performers dancing with metal scrapers as accompaniment to make it more suspenseful. Also it's funny when Will hides on a parade float.
Since CON AIR helped popularize the haphazard editing and camera placement that we now know as the Michael Bay style, Simon West used to be one of my most hated directors. I used to say he was the BASKET CASE lump brother of Bay. But then I went back and watched TOMB RAIDER, which was okay, and I kind of liked his remake of THE MECHANIC despite its shitty action direction, and EXPENDABLES 2 was okay. So now I think of him more as a mediocre hack than an enemy of the cinematic language. Here he's made a visually flat movie without the story and character strengths of THE MECHANIC but with more competently shot action.
There's a couple pretty cool car jumps. I guess since Cage isn't doing martial arts there's not as much to screw up as with Statham. One clever action beat, to show that safecracking skills aren't the same as being a ninja: he jumps from building to building and his foot goes through the cheaply made roof. Then he leans against a poorly made rail, which breaks and dumps him into a pile of garbage.
One odd little moment I want to give West credit for: for some reason Vincent dumps glow-in-the-dark stars in the trunk with the girl, and there's a part where she wakes from being knocked out and sees the stars, and for a few confused seconds it looks pretty, and all is peaceful. Then she figures out she's in a trunk.
Interestingly, the screenplay is by Davis Guggenheim, director of the Academy Award winning documentary AN INCONVENIENT TRUTH. Well, that's actually not true, it's really David Guggenheim, who wrote SAFE HOUSE. But I'm sure they get each other's mail sometimes so I might as well give them credit for each other's movies too.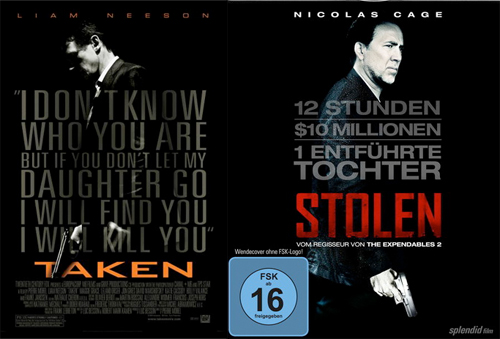 STOLEN comes to U.S. dvd and rays of blu January 8th, getting a one week drop on TAKEN 2. I heard about this being a movie that existed, but didn't remember ever seeing any advertising until I got a hold of a screener DVD here. So I wasn't sure if it was DTV or not until I looked it up. IMDb says it played 141 screens (GHOST RIDER: SPIRIT OF VENGEANCE, not exactly one of Cage's biggest movies, opened on 3,174.) I'm sure they made it as a wide release b-movie, but they didn't really put enough elbow grease into it, so this is what happens.
Oh well. I enjoyed it more than TRESPASS, from what I remember. It met the low bar I set for it.