SURROGATES is TERMINATOR 3 director Jon Mostow (plus the writers of TERMINATOR 3-4) doing another robot movie, this time free of the expectations and mythology (and budget, from the looks of it) of the TERMINATOR series. The only thing they're chained to is the "graphic novel" the ads say it's based on, which means a comic book. Luckily they don't have to be too careful about adapting it because nobody ever heard of it until it was being made into a movie. You show me someone who has read it and I'll show you the guy that did the copy editing. I was gonna say the mom of the guy who wrote it but I doubt she read it either. This is not some iconic one everybody knows like Alan Moore's Watchmen or Garfield's Big Fat Hairy Deal.
The movie takes place in a future where 98% of the world's population sit lazily in chairs (with things over their eyes – looks just like the cover of THE 6TH DAY) operating beautiful looking robot duplicates that go out into the world for them. So it's kind of like THE MATRIX, if everybody knew they were plugged in and did it willingly, and instead of being a computer simulation it was robots. Which if this were real would be kind of better. Everybody knows the old rides at Disneyland with the animatronics are better than the new ones with computer animation projected on stuff. But this is not real and this is no THE MATRIX.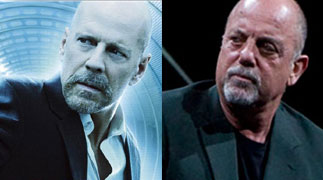 Bruce Willis plays Greer, a cop. When he's a robot he has hair, when he's not a robot it must be said that he looks kind of like Billy Joel. Fortunately he doesn't sing any Billy Joel songs, or I would've walked out. Greer is one of the cops on the scene for an incident at a night club where a couple surrogates (surries for short) were destroyed and their eyes exploded. It would be pretty much like some cars got trashed or something except that when he goes to talk to the operators it turns out they're dead in their chairs, their brains turned to mush. Until now having a surrogate has not been like being in THE MATRIX or in a Freddy dream – the whole point was that you could put your robot into danger and not have to worry about it. Except I guess you sort of would because who can afford to buy a new one, and what with insurance rates and all that, I'm sure.
Basically he has to solve this mystery about a weapon that can kill people through their surrogates, which may be connected to a movement on "the reservation" where the last remaining people who don't use robots live. The movie seems to agree with those people about the technology, but it still portrays them as ignorant fundamentalist nuts.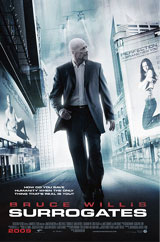 There's plenty of cool stuff in this movie. It's not the breathless TOTAL RECALL sci-fi actionfest I was hoping for (or even TERMINATOR 3), but there's a pretty good human vs. robot chase or two. Nothing as good as the bathroom fight or the truck chase from TERMINATOR 3, but fun. There's a whole world of people with doll hair and digitally airbrushed complexions moving around stiffly and not emoting quite enough. There are little details to the world like how robots get high, that the people on the reservation string up dead robots to make an example out of them like pirates, a joke about what you look like when your surrogate is in the shop. And I like the image of organic Bruce Willis, his face covered in cuts and stubble, limping around this artificial world, getting used to what it's like to get up off your ass and leave the fuckin house.
Obviously there's a subtext here about this here internet and how much of our lives these days takes place from a distance through electronics instead of just a couple of people standing in the same place having a conversation. You're definitely supposed to think about all these headsets and handheld devices and newfangled gizmos that me – and I gotta admit, most likely Andy Rooney – are suspicious of. And it has pretty good logic about what would happen after living through these things, that you could become very vain and begin to hate your actual physical form and not want people to see what you really look like.
But the movie is pretty underwhelming. The mystery feels both too convoluted and yet not complex enough. It gets a little hard to follow since different people are controlling other people's robots (there must be something in the Bible against that) but at the same time it comes unraveled too quickly, there doesn't seem to be much to it. And maybe this isn't fair to Mostow, but the advertising kind of fucks the movie, because the trailer shows the ending. In the context of the trailer I thought "whoah, then what happens?" but the answer in context is "the end credits with a cheesy rock song." So it feels anticlimactic.
It also has that same problem from so many sci-fi movies where it always has to be about the most monumental thing that ever happened, something that affects the whole world and changes everything. Why couldn't it just be a mystery that takes place in this world? I think that would be more meaningful. I'm sick of people having to save the fucking world. I mean that's not exactly what this is, but it's close. How 'bout we scale it down a little bit there, fellas?
And come to think of it I don't think they even establish the world of the surrogates as well as they could. They go through a bunch of the history but they don't really show you much of why people wanted to use these in the first place. The idea is that the world is too dangerous for a human to go into, but the robots don't really take advantage of their safety. A guy jumps off a platform in a night club, that's about it. Mostly they just go about their business. I mean you can't tell me people wouldn't be parkouring all over the place. They'd be doing whatever crazy shit they normally couldn't. I guess it's implied that the robots just go out and fuck stranger robots, but being PG-13 there's not much elaboration. And there's only a couple shots of weirdos on the subway to show that robots can have inhuman physical appearance if they want to.
This is not a criticism of the movie, but there are obviously lots of questions about what goes on here. They mention surrogates for kids, but you only see one and it's controlled by an adult, so who the fuck knows where the kids are or who takes care of them or if they have to buy a new surry every six months. And you have to wonder what the protocol is with these things, where do you draw the line with using them? Do you sit in your chair to control your robot sitting in a chair to watch TV or something? Do surrogates jerk off, or does their perfect looks and flawless safe sex make porn obsolete? Do any humans like to fuck surrogates and vice versa? There's gotta be some new fetishes developing in this world. Do some pervs have websites with spy photos of real women in their chairs? Are there even websites? Do surrogates sit down at a keyboard looking at a screen? If so do they recognize the irony? Do they have different outfits or just the one they sleep in? Does anybody have to iron those suits? If so is it through a surrogate or just some poor working class dude in that 2%? Are there aborigines using these things? Because 98% is alot of the world population. You have to wonder how it works in different cultures, how their histories and beliefs affect their use.
Also, how do you take a shit.
As for Bruce, of course he's good, but this is not one of his better characters. He doesn't get to use the charm and sense of humor much, but it's not one of his deeper gloomy roles either. I like that it's kind of about his relationship with his wife (Elizabeth Banks Rosamund Pike) and trying to reconnect without robots, but he doesn't get a chance to mine the emotions of that too much.
Not bad. But not good. Not even as good as I, ROBOT, as far as flawed robot movies go. Better than DISNEY'S THE KID I bet, as far as Bruce movies. I haven't seen that one though.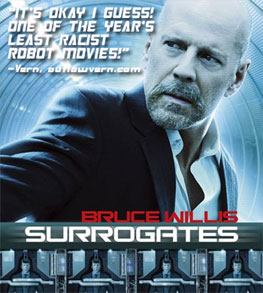 This entry was posted on Friday, September 25th, 2009 at 1:48 am and is filed under
Bruce
,
Reviews
,
Science Fiction and Space Shit
. You can follow any responses to this entry through the
RSS 2.0
feed. You can skip to the end and leave a response. Pinging is currently not allowed.