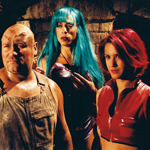 In a quest for odd action-horror combos I came across this comic booky French movie that kind of seems like their version of a Milla Jovovich vehicle. Although it came out in 2002 it's not that slick digital type of fake-looking, like ULTRAVIOLET or a RESIDENT EVIL or something. It's more of a retro-MORTAL KOMBAT type of look with lots of badly composited red cloudy skies, lightning strikes, green fire, etc. But it could use some aggressive KOMBATtty techno music or guitar-and-drums scoring instead of the shitty keyboard-pretends-to-be-orchestra approach.

Mallory (Olivia Bonamy), was "a care free young girl" until her fiancee turned into a demon or something on her wedding night and she had to chop off his head with an ax. She didn't take to that well, so she died her hair red and always wears a belly-arms-and-cleavage exposing red leather top with the collar pulled up (no time for laundry I guess) and fights monsters as "Leader of Anti-Paranormal Commando." She drives a pink Cadillac hearse wearing driving gloves that say "FUCK" and "EVIL" on the knuckles.
I don't know, if you had some devastating trauma that led you on a quest against supernatural evil, would you make up a symbol for yourself? Mallory's is a stylized letter 'M' with fangs. She has it on the back of her shirt and the hood of her car.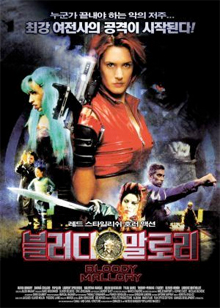 She leads a team that consists of a drag queen named Vena Cava (Papillon Jeff Ribler) and a little girl named "Talking Tina" (Thylda Bares) who is mute, but it's not an ironic nickname like Tommy "Tiny" Lister, it's 'cause she speaks to them telepathically. Later Tina is killed in battle (SPOILER), but finds she can transfer her consciousness to other bodies. She steals the body of a big bald redneck psycho who attacks them at a gas station decorated TEXAS CHAIN SAW style. Another time she possesses a cute little bat and Mallory carries her around in a fanny pack. Also they have Inspector Durand (Theirry Perkins-Lyautey) as the uptight government representative and later one of the Pope's security guards becomes a bland love interest type dude (Adria Collado) to bridge the gap between these rebellious monster fighters and the clueless bureaucrats at the Vatican. Through their experiences together each side can learn and grow, or whatever.
Vena is introduced as the explosives specialist, but I don't remember her using that specialty unless you count one part where her lipstick has some kind of weapon in it. She also has machine guns built into the soles of her platform shoes. I appreciate that this is not a comedy – they never make a joke out of Mallory or the evil she's fighting – but of course it's very winky with this fighting transvestite business. When she whips out a razor scooter and rides it through a battle zone they shoot it as if it's some cool high tech weapon you've never seen before. When she's tied up to be sacrificed but is rescued the inspector tosses her her wig in the way that most movie heroes would toss somebody in the same situation a gun or sword, and then she's able to fight again.
Also they have little jokes like Mallory purposely runs over black cats as part of her war against evil.
Their battle is against monsters called ghouls, "a hybrid race damned by your God and your genetics." They kidnap a bunch of nuns and later the new homophobic asshole Pope Hieronymous I (Laurent Spielvogel) as part of a larger plot with larger villains.
She finds a gate/portal thing that brings her to sort of a hell dimension where everything is reddish and she sees silhouetted demonic shit going on inside windows. A little kid runs out in the street and cackles at her. It's like that Dave Chappelle joke about the baby standing on the street at night, except this kid's holding a power drill.
So, there are wicked ladies, satanists, a mouthless woman named Morphine, prophecies, the Necronomicon. There are a few cool special effects gags, like when some nuns have pregnant bellies that grow until baby ghouls explode out of them, or when a villainess tears off her skin to reveal a Mallory doppelganger underneath. There's alot of okay-not-that-good hand to hand fighting sort of in the style of the Buffy the Vampire show or something along those lines.
My problem with the movie is entirely stylistic. Alot of French movies that make it over here can get by on style over substance. Maybe they even have substance, but they're so drowned in style that nobody would notice. If this was as beautifully realized as CITY OF LOST CHILDREN or THE EXTRAORDINARY ADVENTURES OF ADELE BLANC SAC or even, like, VIDOCQ or something, I would probly really dig it. It's ambitious and sincere enough in its compiling of silly, pulpy ideas to be fun. But it just has such a low-rent, syndicated TV type of feel that it's hard to get into it. So many shitty visual effects, no atmosphere, too much flat, Xena-type camera work.
The director/co-writer is Julien Magnat, his second movie as a director. His first sounds kinda in a similar vein: THE ALL NEW ADVENTURES OF CHASTITY BLADE, about a woman who gets shot in the head and finds out she can enter the world of her favorite pulp fiction character. I doubt I'd like it, but I'm intrigued because the lead is Lisa Wilcox, a.k.a. Alice the Dream Master from A NIGHTMARE ON ELM STREET 4-5. I always wondered what happened to her.
Magnat has only directed one time since, for an actual Milla Jovovich movie called FACES IN THE CROWD in 2011. In between he was a writer for some French TV shows and Iron Man and Garfield cartoons. Sounds about right.