Even if you've never adventured in the fictional South American country of Val Verde yourself, you may be familiar with its history from such films as COMMANDO, PREDATOR and DIE HARD 2. I know I am. And with my keen sense of observation and the power of high definition blu-ray technology I have spotted the Val Verde flag on the side of two planes in DIE HARD 2 and had it re-created by my crack team of t-shirt artisans.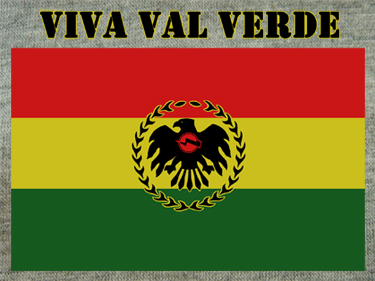 VIVA VAL VERDE is not only an obscure reference and slogan of fictional national pride, but a rallying cry for fans of the larger-than-life movies of the Joel Silver/Arnold/Bruce era. Long live Val Verde and long live Old School Action.
This extraordinary t-shirt (also available in mug) is the inaugural product for my new project Vern's Flea Market. This is probly classier than most of the other ones I'm gonna do, though. I want to take us all back to the late '80s, early '90s when you could go to the parking lot outside the 99 Cent store and young entrepreneurs would sell you such great t-shirts as Black Bart Simpson and Batman Symbol Except It Has Eyes. My designs will be even better. Collect 'em all, like pokeymans or whatever.
This entry was posted on Monday, August 27th, 2012 at 10:41 am and is filed under
Blog Post (short for weblog)
. You can follow any responses to this entry through the
RSS 2.0
feed. You can skip to the end and leave a response. Pinging is currently not allowed.