After his unorthodox standup comedy led to his screechy POLICE ACADEMY 2-4 character leading to other movies that aren't remembered too well other than SCROOGED, Bobcat Goldthwait took the Clint Eastwood or Bruce Lee path: he went rogue to write and direct a vehicle that was more in tune with his voice and talents than what he was being offered. At the time it didn't get him much more respect than the talking horse one, but this movie holds up and earns him a pass for those other ones in my opinion.

Goldthwait plays the titleational clown, who gets the best waking-up-hungover intro since Bruce in THE LAST BOY SCOUT. He's passed out in front of a toilet, wakes up because a kid misses and pisses on his head. He must've had a wild night with Mom, an older gal who looked sad with clown makeup smeared on her face, even before I realized she was Florence Henderson.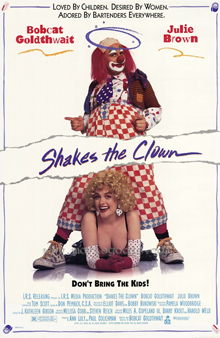 Shakes is a professional clown, he does magic tricks and balloon animals at birthday parties, and is hoping to get a gig replacing this other clown that's leaving his TV show. But in the world of the movie it's not just a job, it's a lifestyle, a culture. They hang out at clown bars, they rarely take off their makeup, they get beat up by rodeo clowns. They also hate mimes, and attack them on sight. I hope it's a gang rivalry type deal, but I have a feeling it's more like gay bashing. Luckily Shakes becomes a little more enlightened about the mime issue by the end of the movie.
But Shakes isn't a lovable protagonist anyway. He's a washed up deadbeat. He's bad to his girlfriend (Julie Brown, Chloe-the-uniform-fitting-lady in POLICE ACADEMY 3 [of the two Julie Browns that were famous in the '80s this is non-Downtown Julie Brown]), he misses gigs, yells at clients, all because he drinks way too much. I can't deny it's playing for the obvious shock value – ha ha, a man who's supposed to entertain children is a drunk, womanizing asshole, ha ha – but what I like is that the movie actually becomes about his alcoholism. He loses his job and his woman, he still won't admit he has a problem, his friends confront him, they try to help him, they give up on him, they give in and have a beer with him. The fact that it's treated seriously is a joke in itself, but it's a clever and unusual one.
Since Goldthwait populated his cast with buddies from the comedy world he ended up with a bunch of people who later became better known: Tom Kenny (the voice of Spongebob Squarepants cartoon character) as cokehead villain Binky the Clown, Kathy Griffin as the girlfriend's best friend, best of all Adam Sandler as one of Shakes's two buddies. It's cool because he's in clown makeup the whole time and real young, but totally recognizable as one of Sandler's sweet-hearted doofus characters.
The comedian Robin Williams is in the movie too, but I think he was pretty well established before filming began.
There are alot of funny minor characters in the movie. The comedian Lawanda Page probly made me laugh the most as a horribly obscene clown lady talking shit in the Twisted Balloon Bar. And I like the two non-clown cop characters who bicker like an old married couple. If I have one complaint it's Julie Brown's character always speaking with a baby-talk like speech impediment. I'm not sure what the reason for that is other than random goofiness, and it's pretty annoying to listen to. But I'm okay with the other random goofiness I don't really get: Shakes's friend whose idea of being a clown is just dressing in drag.
I like this movie. Maybe it's just the era it was made in, but I was surprised by how much it felt like a Real Movie compared to Goldthwait's more rough-around-the-edges directorial works of this millennium. It'll take the time for a scene of Shakes just sitting by himself at the bar, filling up his glass from a pitcher, staring into his beer, as if Goldthwait doesn't notice that it's absurd that he's wearing clown makeup while doing this scene. Or maybe more like he just doesn't care if that's a problem for you. He's not always going for the punchline. (There are some though – he stumbles away from a post-car-chase fiery crash, then laments "I just made my last payment.")
I guess that makes it hard to recommend. Most of the jokes are conceptual – they're in the details of what a world of clowns would be like. World building, they call it now in the nerd community. I appreciate it for its weird dedication to putting this world on film and showing its seedy underbelly with a straight face. It's not so much a hilarious comedy as an odd tone and subject matter that makes for a unique experience.
Maybe they should retitle it BAD CLOWN so it can claim fatherhood of the BAD SANTA, BAD TEACHER comedy cycle.
This entry was posted on Tuesday, June 26th, 2012 at 2:49 am and is filed under
Comedy/Laffs
,
Reviews
. You can follow any responses to this entry through the
RSS 2.0
feed. You can skip to the end and leave a response. Pinging is currently not allowed.