I don't see as many movies as critics who get paid, so I'm allowed to take pride in seeing all the best picture nominees again this year. Most of them I had already seen when the nominations came out, but I had to see this EXTREMELY LOUD AND INCREDIBLY CLOSE to finish off the check list.
This is the one nobody expected to get nominated. It got pretty bad reviews and didn't make up for that by being a big hit or anything. I think it was Mr. Beaks who pointed out that it might be the first ever best picture nominee that was certified Rotten on Rotten Tomatoes. I honestly wonder if it will be the cause of a rule change next year. There must be some kind of mathematical fluke that caused this to happen, and they better clear that up before YOGI BEAR 2 or something gets a nomination. I don't know what caused this or who those women were who shrieked with glee when it was named at the nomination announcements. I blame them for this. I think they were up to something.
Not that it's the worst thing ever. I definitely liked it much better than director Stephen Daldry's last best picture nominee, THE READER. It's another literary adaptation that uncomfortably mines real life atrocity for entertainment. This time instead of a Holocaust/sleaze combo (kid has sex with Nazi and teaches her how to read) it's 9-11/mystery (kid with Asperger's scours New York trying to find the purpose of a key belonging to his dad that was killed in the World Trade Center).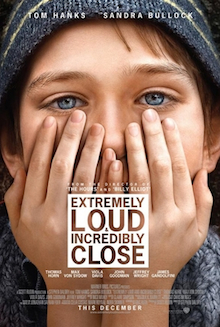 Actually, he doesn't say he has Asperger's, he says the tests were inconclusive. Obviously his doctors aren't familiar with Idealizedperger's Syndrome, which is a much more adorable affliction. It's similar but the tics and obsessions are full of whimsy and quirk. You create cute scrapbooks full of maps and pictures and crafty little pop-ups. And you do odd things like shake a tambourine whenever you're scared or invent your own swear words.
This kid sees the word "Black" on the envelope that the key was in, decides it's a last name, creates a complex grid on a map of New York, finds the addresses of every Black in the New York phone book, devises a schedule for meeting each one of them and a fancy filing system for compiling data about them. At times it feels like a Wes Anderson movie by somebody with no sense of visual style.
He goes to the homes of these people, including Viola Davis, they are mostly nice to him and he says strange things to them like "Do you need a hug?" See, it's cute because he doesn't understand that you're not supposed to say that to a stranger, even if she let you into her home for some reason. He spouts random facts about elephants or what have you, but not so much in a "just bear with him, he has Asperger's" type of way, more like an "I'm a novelist and I read some interesting facts in a magazine one time and this is the best forum to share it."
The idea that this kid would and could successfully do all this is complete fantasy, and gets even more far-fetched as more information is revealed. You obviously have to be willing to accept certain things that are not very believable, that's the type of story it is. To contrast that type of story with real life tragedy so fresh on our minds is a real challenge, and Daldry is not the guy to pull it off. It sometimes comes off kinda creepy when it's supposed to be cute, exploitative when it's supposed to be moving. But the story is still compelling, especially when the kid meets and decides to bring along Max Von Sydow as a mute shut-in who communicates with a notepad and hands that say "Yes" and "No" on them.
Von Sydow is as good as you'd expect. The one who surprised me was Sandra Bullock as the kid's mom. It's a pretty small role, but she's very good as a woman who's been emotionally crushed.  I don't think I've seen her play a role like that before. The kid (a non-actor who was asked to audition after being on Kid's Jeopardy) is not entirely convincing, but mostly gets away with it since he's supposed to talk weird and have odd reactions anyway. He doesn't process emotions the same way we do, and I guess that's the point. How does anybody process losing their dad, let alone losing him to that?
So I was okay with it, but Daldry does one shitty thing real late in the movie that chipped away some of my good will. The kid is convinced that his dad is one of the people who jumped out of the building, and for one very brief shot, he imagines it: Tom Hanks moving toward the camera, flailing his arms and legs around. The tastelessness is magnified by how goofy the shot looks. I just keep imagining Hanks hanging on a harness in front of a green screen, asking, "Are you sure about this, guys?"
I mean shit, if they had to do it they might as well have done it in slow motion, re-create that shot of Hans Grueber falling. That would've been almost as classy.
My reaction to EXTREMELY LOUD AND INCREDIBLY CLOSE is not really extreme or incredible. It's a mixed bag. Not as bad as I expected, but questionable in many areas, and obviously only nominated due to the theorem Previous Academy Award Winners + 9-11 = Important. Oh well.
* * *
APPENDIX A: Other 2012 Best Picture Nominees I have already reviewed
THE ARTIST
HUGO
MONEYBALL
THE TREE OF LIFE
WAR HORSE
APPENDIX B: Comments on the 2012 Best Picture Nominees that I haven't reviewed
THE DESCENDANTS
I liked this movie quite a bit, although it didn't really stick with me too strong, so I don't really remember most of what I would've mentioned if I had reviewed it months ago when I saw it. It felt like an authentic portrayal of non-touristy Hawaii, although let's be honest, the place still looked like the paradise that the characters keep denying it is.
I like the theme of them being "descendants" and how these white people feel entitled to reap the benefits of the land they inherited even though they don't offer in return any respect for its importance to their ancestors, the indigenous culture or future generations. Like other Alexander Payne movies it does a good job of making all the feelings messy – sad and dark but also funny, sometimes sweet, maybe a little angry. Clooney is still handsome Clooney but also kind of a dork, because of the way he tucks his shirt in and the way he runs. He's very flawed, but probly a better person than most of the other Payne protagonists.
The girls that play his daughters are excellent. The idiot boyfriend is this generation's Chris Klein. There's a minor character I liked for his undeniably authentic surfer dudeness, not realizing that he was the famous surfer Laird Hamilton. In case you forgot from the trailers like I did I won't mention the artistically disgraced actor who appears in the cast later on, but it's great casting for a guy you would be insulted to have your woman cheat on you with. It would've been funny if his part was bigger and he got an Oscar nomination.
It's a good movie. There are over 200 words for Aloha in the Hawaiian language.
THE HELP
I would love to have a quote on the poster for THE HELP. This is what it would say: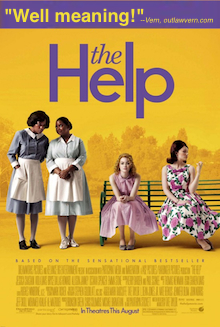 It's a well made movie. The actors are all good. It's making a sincere attempt to deal with racism and classism. I think the way people treat the people who work for them is a big issue even when you can separate it from racism.
Of course this story has the classic White People Dealing With Race weakness that it has to take place half a century ago in a world we're far removed from, where white people are so superstitious that they consider it a health hazard for a black person to use their bathroom. On one hand it's a bizarre enough example of outmoded racism that it does stand out from other civil rights era movies. On the other hand it's hard to imagine a single white person seeing this and relating enough to the racism to be inspired into self-examination. We all will just be outraged and glad we're with the good guys.
The story is about a white girl (Emma Stone) who starts noticing that her fellow rich ladies treat their black maids like shit and decides to interview the maids and write an anonymous expose about what they go through. The lead maid is Viola Davis, who is great, but we all knew she would be because we've seen her in the Jesse Stone movies with Tom Selleck. Octavia Spencer also deservingly got a nomination for supporting actress. She has a compelling relationship with TREE OF LIFE mom Jessica Chastain as the crazy white lady who has become socially ostracized in the town for stupid bitch reasons. Chastain in my opinion steals the movie so it's nice that she got nominated, but also it would be pretty awkward if the Academy gave the Oscar to the white boss instead of the titular help. Pretty fitting, though.
Bryce Dallas Howard deserves some credit for playing a completely despicable character who looks like normal pretty Howard but thinks, says and does ridiculously hateful things. I thought she was good. I hated her. Emma Stone also does a respectable job in her new duty filling in for Lindsay Lohan in the movies she would've done if she'd stayed on track.
But of course the problem I have with the movie is that I don't like how these types of stories always have to be from the point of view of the understanding white person. Aren't these black women so dignified, so strong, don't they have rich emotional lives, don't they deserve better, isn't it great that I noticed? You watch the parts with "the help" at home and you wonder why the story can't just be told from their perspective. Wouldn't that be more interesting? It would definitely be less condescending.
And what to make of the ending, in which the white heroine leaves town and becomes a successful writer on the backs of the maids, who are left behind still cleaning toilets, their jobs and possibly lives in danger because of the secrets they revealed to her? It seems like it's meant as a happy ending. Maybe I misinterpreted it.
MIDNIGHT IN PARIS
Like THE ARTIST this is a very inconsequential but perfectly enjoyable movie. And like THE ARTIST and HUGO it's nostalgic, but interestingly it's also critical of nostalgia. Owen Wilson plays a Woody-Allen-Surrogate screenwriter-turned-novelist who, through some unexplained magic (similar to peeing in a fountain to switch bodies like in THE CHANGE UP) finds that he can travel back in time to meet his literary and artistic heroes: F. Scott Fitzgerald, T.S. Eliot, Cole Porter, Salvador Dali (who he finds hanging out with Luis Bunuel and Man Ray), etc. He even gets Ernest Hemingway and Gertrude Stein to take a look at the novel he's working on, which is a pretty good use of time travel. It's not like he got a chance for the ol' Hitler assassination deal so I respect that he did this.
He also meets Marion Cotillard as the ultimate dream girl of his most romanticized historical period and place, and he starts to fall for her. The only problems are 1) he is already engaged to marry Rachel McAdams and is currently on a trip to Paris with her parents and 2) he can only visit this other girl at night during his time warp. So it would be a difficult relationship to pull off.
The great joke of the movie is that when he travels to what he considers a better time period than the one he lives in he then travels with Cotillard further back in time to a period that she considers better than hers. You get it? There is no golden period. Things were never that great. Or they are always that great. I'm not sure. But it's interesting.
My favorite thing in the movie though is Michael Sheen, who gives a spectacular performance as the blowhard douche that McAdams seems to have a thing for. He's the professor who she worships and always talks about, he delights in always being the center of attention and thinking he has some incredible insight or bit of knowledge to share about everything, to the point where he starts correcting tour guides and shit. I wanted to punch him even worse than I did in TRON LEGACY, but this time he was that annoying on purpose. An all time great villain, which is important because you hate him so much that you cut undeserved slack to the comparitively less obnoxious protagonist and the movie's own tendencies to bask smirkily in its knowledge of literature and culture and what not. (Admittedly that stuff is probly great fun for people who studied it in college or whatever.)
Good movie. Nice photography and music. Good job, everybody. Looking forward to MIDNIGHT IN PARIS'S BOGUS JOURNEY.
TOWER HEIST
I think director Brett Ratner sort of gets a bad rap, he's not the shittiest director ever, X-MEN 3 is not so bad, I will go to my grave thinking that MONEY TALKS is still hilarious and RUSH HOUR is pretty funny. But he is for sure a hack. TOWER HEIST is an adequate movie with an enjoyable enough (but never better than that) stick-it-to-the-man heist story, like the modern equivalent of the original FUN WITH DICK AND JANE. But not quite as good probly.
I remember reading about this movie, at one time it was gonna be The Black OCEAN'S 11, 'cause it was gonna have Eddie Murphy, Chris Rock, Chris Tucker and others all teaming up to get back at their rich employer, and probly entrenched systematic racism. As actors fell through and things got rewritten it eventually got Ben Stiller in the starring role instead, so it turned into The White Black OCEAN'S 11 (in the tradition of WHITE BLACULA). And then Casey Affleck joined the cast. How you gonna have one of OCEAN'S 11 in The White Black OCEAN'S 11? It's getting confusing here.
I think the racial version of this would've made more sense, but they still have a populist message where the loyal staff of a hedge fund asshole (Alan Alda) lose their life savings to his scams and decide to get it back. They still got some color in there, to represent a real hotel staff, including the always enjoyable Michael Pena and PRECIOUS herself, Gaboure Sidibe, who is very likable but probly didn't need the Jamaican accent.
Ratner likes to have more racially diverse casts than anything outside of the FAST AND FURIOUS series, but sometimes he leans heavily on stereotypes. This one has this ridiculous idea that white people have to go find a black person (Eddie Murphy) to show them how to commit a crime. He's okay but not really that funny and his character ends up not really helping much in their planning, I'm not sure why he was needed. Also, Sidibe knows how to crack safes (because she's from Jamaica [?]) and both characters are the only ones that carry guns. White people don't, except in the south, or in the mob.
Another pretty recent comedy, HORRIBLE BOSSES, had the same idea, that white people have to go find Jamie Foxx in a bar to learn how to kill somebody. (At least in that one it turned out he was [SPOILER for HORRIBLE BOSSES – bet you didn't expect that in my Oscar preview] bullshitting them.)
I like most of this cast and never got bored with the movie, but the parts I laughed at were mostly pretty obvious jokes. Also I was kind of offended that we're supposed to be okay with Stiller smashing an awesome car that they say was owned by Steve McQueen. Sure, avenge your boss by defiling his beloved material possessions, but don't fuck with Steve McQueen's car. That belongs to the world now. If your boss owned the Mona Lisa would you wipe shit all over it? I don't think you would. And that was just Leonardo da Vinci. This is Steve McQueen.
HORRIBLE BOSSES was way sloppier and stupider, but had bigger laughs at least. What Ratner is missing, actually, is Chris Tucker. MONEY TALKS isn't all that different in its construction, but Tucker is constantly there adding laughs with his performance and the shit he decides to say. Like a saxophonist going crazy on a standard.
Speaking of music, this one doesn't have a Lalo Schifrin score like most of Ratner's movies, but they obviously told the guy they got to make it sound like Lalo.
In conclusion, TOWER HEIST is very mediocre, also come to think of it it might not have been one of the best picture nominees – there were only 9 this year, weren't there? I was thinking this was the tenth one. No time to look it up now thanks
APPENDIX C: Has anyone pointed this out?
John Goodman is in both THE ARTIST and EXTREMELY LOUD AND INCREDIBLY CLOSE. Viola Davis is in both EXTREMELY LOUD AND INCREDIBLY CLOSE and THE HELP. Jessica Chastain is in both THE HELP and TREE OF LIFE. Brad Pitt is in both THE TREE OF LIFE and MONEYBALL. Am I missing any?
APPENDIX D: One final comment
Wouldn't it be crazy if THE TREE OF LIFE won? Nobody would see it coming, like when CRASH won. But it would be a reverse CRASH. It would set the universe straight. I don't know. I wish it would win. But I'm resigned to not be bitter about THE ARTIST or whatever does win. Most of them are pretty good movies. I'll do my best.