SMOKIN' ACES 2: ASSASSIN'S BALL is the rare DTV sequel that leaves 2 (two) obvious openings for porn parody titles, not to mention having the word "ass" in it twice. In that sense it is absolutely groundbreaking. The idea of a DTV sequel to a movie that not one single person in the world is passionate about is not as unusual (see: THE MARINE 2, BEHIND ENEMY LINES 2-3, THE ART OF WAR trilogy, etc.), but I guess technically this one is a prequel (it refers to a dead character as if alive). So this might actually be a historic milestone, I'm not sure.
I remember seeing a preview screening of SMOKIN' ACES, and even those I-will-stand-in-line-for-several-hours-to-see-literally-any-piece-of-garbage-movie-as-long-as-it-is-free passholes seemed to hate it. But I have to admit I mostly enjoyed it because it had so many funny and audacious moments peeking out from beneath the big mess of a so-called story. The movie really doesn't work, but I wanted it to because there were some real good parts. That's what I think. And in the ensuing years I honestly haven't met one single person who would give it that much.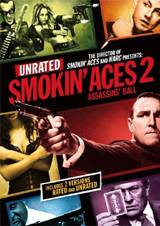 So as the world's #1 SMOKIN' ACES fan it is my duty to review this DTV followup, produced and storied by Joe Carnahan, written by two guys who were his assistants on the original, and directed by P.J. Pesce (FROM DUSK TILL DAWN 3, SNIPER 3, LOST BOYS 2). It's mostly a lower budget rehash. A $3 million bounty has been put on a guy, this time not a douchey magician but an aging FBI desk jockey named Walter Weed. (He also does card tricks, so that they can hold onto the already tenuous name from part 1.) A bunch of colorful, gimmicky assassins have their names written on the screen and come try to shoot him, there is a bunch of flashy violence, then a sudden mudslide of plot twist exposition, the end. Short and sweet, at least.
It took me a minute to realize Walter was played by Tom Berenger. So… the sniper has become the sniped. I always like him, he's not just a man's man but a good actor and a great presence even in crappy movies. But I was bummed they had another character mention that he looked like the guy from PLATOON and SNIPER. Talk about lazy, SCREAM 3 type humor. Fuck that. That doesn't count as a joke.
The assassins include: a hot seductress chick who switches between lingerie and a burqa; unlicensed freestyle brain surgeon Vinnie Jones; the evil master of disguise guy I forgot about from the first one; some members of the Tremor family. If you saw part 1 you might agree that the highlight was the Tremor Brothers, three heavily armed redneck lunatics who looked and acted like extras from a MAD MAX rip-off. Darwin Tremor went on to play Captain Kirk, and Jeeves Tremor was in, uh, WILD HOGS, so Lester Tremor returns with a sister, a fat brother and a dad played by Michael Parks (you know, Earl McGraw in various Tarantino movies). The Tremors provide the biggest laugh when they steal a cannon from the circus and fire an explosives-strapped clown through the side of the building.
The building, by the way, is a fully stocked bunker hidden beneath a jazz club. The agent who runs the place also  tends bar and plays saxophone.
It gets to the climax surprisingly fast, and despite some bad CGI explosions it's funny to see such all out mayhem in an enclosed space. Parks smacks one of his sons on the head for using an RPG indoors. Not a close range weapon, he explains. In retrospect maybe the bunker should've been built beneath a heavily guarded fortress rather than a public dining area where the assassins are allowed to come in freely and hang out. But hindsight is 20/20 I guess.
The end makes you think, "Oh, so you guys saw THE USUAL SUSPECTS too?" but then there's a little twist on that, so it left me surprisingly satisfied. Also nice to see Ernie Hudson coming after Berenger again – it's a THE SUBSTITUTE class reunion.
Re-reading my review of the first one I remember that as ridiculous and excessive as it was it also had a little bit of weight to it, it made a point of treating at least a few of the characters with respect and showing their deaths as tragic, in a way that kind of messed with an audience's bloodlust. Don't expect that here. Wow, I just realized they made a dumbed down version of SMOKIN' ACES. Welcome to 2010.
But I can't be mad, it gave me some laughs and that's the highest expectation I had for it. I'm not gonna try to persuade anybody to rent this, but if you were planning to I say go for it. It's about what you expect, except maybe a little better. In fact I'd say it's as good as you could realistically hope a DTV prequel to this particular movie would be. And it ends with an explosive quote from the legendary investigative reporter Seymour Hersh. I don't remember SNIPER 3 doing that. Never saw LOST BOYS 2.