WELCOME TO THE JUNGLE is a little low budget cannibal movie put out in '07 by Dimension Extreme. That's the division of Dimension Films that puts out independent or foreign horror movies they buy the rights to. They're extreme so I believe that means they're like other Dimension movies except they wear backwards hats and ride snowboards. I think ROGUE is the only movie released by them that I saw and liked alot, but I've heard good things about INSIDE and TEETH.
This one didn't get much attention other than a little controversy when rumors spread that it was a remake of CANNIBAL HOLOCAUST. Writer/director Jonathan Hensleigh got mad and claimed otherwise in interviews, but on the commentary track he calls what he said "unfortunate" and admits that CANNIBAL HOLOCAUST was "obviously" a huge influence.

Hensleigh was the only reason I watched this. It was his second movie as a director after THE PUNISHER (Thomas Jane edition), so I always kinda wanted to see it, and enjoying KILL THE IRISHMAN finally got me off my ass to rent it. The cover says "From the producer of THE TERMINATOR and ALIENS" because somehow he got Gale Anne Hurd involved. She produced his PUNISHER so they must've become friends on that.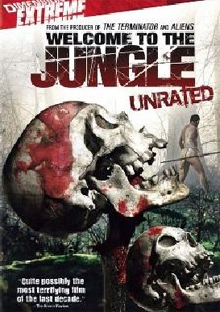 This is basically another one of these movies about some young people making a video about themselves doing a thing and then they encounter some shit and they argue and some disappear or die and then bad shit and then the tape ends. It's just like BLAIR WITCH PROJECT and PARANORMAL ACTIVITY and [REC], all the same shit happens, except with cannibals instead of ghoulies or whatever. But it's different from CANNIBAL HOLOCAUST because honestly there are not nearly enough people killed to call it a holocaust, that would just be a huge exaggeration.
I can see if you were a fan of CANNIBAL HOLOCAUST then it might be upsetting that this is a slicker, cleaner, modern day, modern technology version of a similar concept. But I'm not a fan. To be honest I tried to watch it one time, feeling like as a horror fan I should understand it. But I turned it off early on, somewhere around when the cartoon savages impaled some white lady from vagina to mouth. It's not that I can't take that type of shit (I did watch CANNIBAL FEROX all the way through) but I just felt like I wasn't getting anything out of it. I went and played fiddlesticks or rescued orphans or something instead.
Because of that I can be open to this one, I can see how it opens up an actually mildly scary version of the "fear of uncivilized islands" thing to an audience of young people that would never watch CANNIBAL HOLOCAUST if they even knew about it. It's arguably a little more plausible, because modern technology and culture does allow for dumb motherfuckers going around self-indulgently taping every second of their god damn lives. And it uses the BLAIR WITCH type of structure for a story that requires no acceptance of the supernatural.
The different twist he puts on it is that the tourists who get lost in cannibal country are on a quest to find Michael Rockefeller, the son of Vice President Nelson Rockefeller. I don't think I ever knew this but that guy really did go missing in Southwestern New Guinea back in '61. He was on an expedition studying the Asmat people there when his boat overturned. He tried to swim back but was never seen again, probly drowned or was eaten by a shark or crocodile. But apparently there was some headhunting and cannibalism still around the area at that time so people have written books or spread urban legends about him getting killed by a tribe to avenge an attack by a Dutch patrol three years earlier, or even of him surviving and becoming their leader like that one John Milius movie with Nick Nolte. There have been claims of sightings or of finding his skull.
So the four in this movie find out the stories about Rockefeller still being alive and they decide it would be an awesome vacation to go try to find him. Same thing the Scooby Doo kids would've done, except they document the whole thing on their camcorders.
One mistake Hensleigh makes I think is that the people are pretty obnoxious. Alot of movies do that on accident, this one I kind of think you're supposed to think they're douchey. But it's not really funny about it and it's not anything original so why do I want to watch a movie about them? I think usually you gotta want the audience to root for the protagonists in a horror movie. Here it's two couples and one pair is way stupider and jerkier than the other pair but the other two I'm not gonna want to go on a vacation with either. The one pair gets drunk and stays up late whoo-hooing and the other pair bitches about how the other two sleep in too long and don't take things seriously enough and then they all bicker about it. Pretty soon they're wanting to ditch each other. And then they do and then the couples argue among themselves.
There are some tense scenes where their car gets attacked by bandits, long before they run into any cannibals. Then there's some stuff where they're on rafts and you spot some painted up Natives watching them from the shore. It's kind of weird that that's still effective, must be something in our blood. I like how they see a painted up guy with a bow and they have no choice but to just keep slowly floating by and try to act natural. Maybe it'll be fine. Just coming through, buddy, don't mind us. Sorry that my prick friend took one of your skull trophies.
It never does get to CANNIBAL HOLOCAUST level gore or killing-of-real-animals, but there are a couple very graphic parts. Usually these "found footage" type horror movies are about ghosts, so all they show you is a spooky door opening up or a shadowy blur of something or other. Therefore it actually is kind of novel to see some horrible bodily mutilation in this format. It follows all the traditional beats of BLAIR WITCH PROJECT and every rehash that's come out since, but it does manage to find a good balance between keeping-it-simple and actually-showing-you-some-shit-that-goes-down.
Most of what happens is pretty reasonable within the context of the story so I do gotta point the out one part that made me laugh: one of the guys tells his girlfriend he's gonna build a raft to chase after the other guy. Cut to later, still sunny as if it's only an hour or two has passed, and he's managed to create a huge, well-crafted bamboo raft. I don't even know where he got the materials let alone how he knew how to do it so quickly and neatly and without many tools. So if the "finding Michael Rockefeller" business doesn't work out maybe he should go into raft-building.
As I've said before I'm sick and tired of this "we found the video they were making when it happened" approach to horror movies. But as far as those go this one is okay. Definitely not as bad as its reputation.
Note: the movie does not use the Guns and/or Roses song of the same title, but it could be argued that they do "got fun and games."