You know Hammer, the production company over there in London that did the old Dracula and Frankenstein movies with Christopher Lee and Peter Cushing? Well, they're back, or at least somebody's using that name again. I wouldn't take it too seriously except that the first official theatrical release of the new Hammer was LET ME IN, and that was an extremely well made movie. It even seems to kind of make sense that the studio that did their own version of Dracula would do their own version of Let The Right One In. So I was willing to be down with these guys.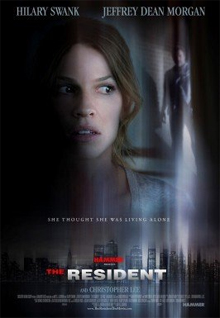 Movie #2 is not as impressive, though. The cover of the screener boasts "2010 THEATRICAL RELEASE," which is screener jargon for "I know, I thought it was DTV too, but it must've played on like one or two screens briefly."  (I looked it up and I guess it did get released theatrically in the UK. And in Kuwait.)
The cast is impressive, though. It stars two time Academy Award winner Hilary Swank, one time JONAH HEX cameo-er Jeffrey Dean Morgan, and holy shit, Hammer's own Christopher Lee. It's a pretty typical stalker movie about a gal moving in to a New York apartment and getting spied on and harassed by a weirdo.
Swank plays Juliet, the titleistical resident. In the opening we see her jogging and then going to her job as a surgeon. The clumsy first line in the movie is "Okay, we're gonna antebate (?) this guy, fix the hole in his heart." (Doesn't that scare you to think you could operated on by a lady who calls you "this guy" and who has to explain to her assistants that she's fixing a hole in your heart?) I figured this opening was establishing two things: how well she can run away, and that she has a knowledge of anatomy and surgery that could come in handy if she gets injured or needs to horribly injure her attacker. Nope, the only relevance is that she later does a blood test on herself.
But she's split up with her boyfriend (Lee Pace) so she finds an apartment to live in by herself. It's a big old place, seems like an impossibly good deal and there's a nice, charming landlord named Max (Morgan) who's very welcoming and helpful. There must be some catch, right? Well, we know, but she doesn't, that somebody is spying on her. Is it Max the landlord? Max the landlord's creepy grandpa (Lee)? The ex? Somebody else? It acts like it's a surprise but half an hour in it skips back and shows you what was really going on and (BIG SPOILER THAT IS NECESSARY TO SAY IN ORDER TO TALK ABOUT THE MOVIE AT ALL AND IT'S GIVEN AWAY ON THE POSTER ANYWAY) yep, Max is stalking her. In fact he spotted her at the hospital and manipulated her into coming to look at the apartment and then pretended to be surprised.
(a question: do you think it's weird for somebody to put up a flyer saying "Apartment Wanted" with their phone number on it? In my experience the apartments don't come to you, you gotta go to them. Oh well, she's a heart surgeon, not a rocket scientist.)
The beginning of the movie pretends to be the beginning of a romance, but of course we know what genre this is and what it's headed toward. Max is kind of a Norman Bates inspired character, except Morgan is so much manlier than Anthony Perkins that it's a little weirder fit. He's outwardly handsome and sweet but when he's alone he freaks out and hits things. There is a battle raging within his soul and what not, so when she tells him, "That's really sweet of you. Thanks for being such a good friend," he winces a little bit.
I guess he feels bad about the secret peephole in his closet, so he nails a board over it to restrain himself. But it's like having a bunch of ice cream in the freezer and telling yourself you're not gonna eat it. You know you're gonna fuckin eat it.
Since her name is Juliet, obviously that could be an allusion to the ol' Shakespeare. But you know how Romeo saw Juliet on the balcony or whatever? This guy watches her masturbate in the bath tub through a hole in the wall. So it's pretty different from the original play.
The emphasis in the movie is on the secret violation of private space, the idea that somebody could be touching your things and breathing on your neck (or worse) when you're asleep or have your back turned. You just have a weird feeling, something seems wrong, but it doesn't occur to you that it's because some dude has been drugging you and then sucking your fingers from under your bed.
The idea is definitely creepy, and I respect Morgan's courage to just go for it, but in order for it to work it would need a good, well executed setup. Unfortunately the script is strictly amateur hour. It's one of those movies where you can picture the writer typing up backstories for the characters, and as documentation it's hokey enough, but then he just dumps it directly into the dialogue. So Juliet sits on a park bench telling Max what she used to do as a kid and how her parents were hippies and she was the black sheep of the family and that's why she rebelled by going to medical school. Dime store psychological jibber jabber that's supposed to  pass for characterization.
Hey, you need to explain why Max is too stupid to notice the security cameras all over Juliet's apartment? No problem, make it a poetic character trait:
Juliet: "You like old things."
Max: "I suppose I do. I'm not really one of the text message, Twitter crowd. Technology seems to be about telling everybody your deep dark secrets. I don't know, I guess I think… secrets should be secrets."
Also they realized that it's suspicious for an apparently-great guy like Max to not have a lady in his life, so she straight up asks him why and he says "I never found anyone that… that got me, I guess." Yeah, especially not the part where he's supposed to be doing maintenance on some lady's apartment and instead he lays in her bath tub and jerks off. But don't give up, Max. Your soul mate is out there somewhere.
With a dumb setup like this you're not exactly dragged into the thing, so it's sometimes funny when he does the weirdo business like sniffing her clothes or laying in bed hornily caressing them. One particularly silly moment is when he goes into her apartment while she's not home and – gasp, this shit is fucked up, you're gonna probly faint – he uses her electric toothbrush. And scary music plays while he does it. That's gotta be my favorite part.
Finnish TV director Antti Jokinen directed and wrote the script with Robert Orr (story writer for UNDERWORLD: RISE OF THE LYCANS). And they're working with Guillermo Navarro, the cinematographer of JACKIE BROWN, DESPERADO and all of Guillermo Del Toro's movies, but I wouldn't have guessed it. I know many or most people had problems with LET ME IN as a remake to LET THE RIGHT ONE IN, but you gotta at least admit that it was gorgeously lit and shot, dripped with thick, molassesy atmosphere and yet had a very naturalistic feel to the dialogue and performances. THE RESIDENT has none of those qualities, it's just an unimaginative and not particularly bright version of a familiar idea. The only thing that makes it stand out is the better-than-deserved cast. And the toothbrush.
I found an interview with Jokinen on a websight called filmshaft, and it's weird because it sounds like he hasn't seen any movies before. Everything that's so standard in his movie he thinks is a brilliant twist on the standard formula. For example check out how he explains the idea of Swank, as a woman, being spied on:
"Yes. I wanted to make a film with a woman as the central character because I also wanted a voyeuristic aspect at the centre of the film. I think the sexuality of that layers the film like a perfume and I needed a woman to play that part. Voyeurism, for me, is about watching a woman and feeling a woman who doesn't know she's being watched."
He also doesn't seem to know that most slasher movies and suspense thrillers of the past 30+ years are about women being terrorized and then fighting back:
"The other reason I wanted to do that was from Hitchcock's movies and other things that I found intriguing. So often in horror films when women are in danger they just run and hope they won't be caught. In The Resident the character stands up and fights."
Well, I guess they probly don't have Cinemax in Finland. He doesn't know about the Shannon Tweed movies and what not. Once the gloves are off and the two characters throw down it's okay, but it doesn't go nearly far enough to make me forgiving about the rest of the movie. This villain deserves more of a comeuppance than he gets. Her revenge should involve running, surgery, and the violation of his oral hygiene products.