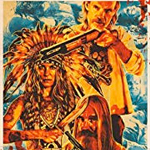 (I guess I should always say this, but SPOILERS)
The psychotic Firefly clan – introduced in Rob Zombie's HOUSE OF 1000 CORPSES (2003) and made more vivid in THE DEVIL'S REJECTS (2005) are finally back in 3 FROM HELL, another mix of sun-soaked fugitive murder spree and stylized cartoon that's at least a little bit of a comeback for Zombie after the crowd-sourced 31 (2016). That one had nice cinematography and performances but it was such a limp "I guess this is the kind of shit you expect from me?" greatest hits throwaway I couldn't even muster the enthusiasm to write a review.
Since 3 FROM HELL is not as good as REJECTS, and not as big of a leap from its previous chapter, it doesn't feel entirely necessary. And that makes it harder to ignore the hollowness of these movies. As far as I can tell they're not saying much, just trying to be provocatively inappropriate, and they're less about human beings than about Zombie's fetishes: weird clowns, redneck chic, tattoos, bushy beards, satanic symbols, Manson Family nostalgia, '70s rock montages, kitschy western gear over cheeky retro-t-shirts, black and white monster movies playing on old TVs. But I can appreciate most of that stuff, so I can enjoy an occasional dip into Zombie's distinct mix of uncomfortably fucked up shit, cool visuals, some laughs and some stretches where you realize you're too invested in these terrible people and feel like an asshole. (read the rest of this shit…)
VERN has a new action-horror novel out called WORM ON A HOOK! He has been reviewing movies since 1999 and is the author of the film criticism books Seagalogy: A Study of the Ass-Kicking Films of Steven Seagal and Yippee Ki-Yay Moviegoer!: Writings on Bruce Willis, Badass Cinema and Other Important Topics as well as the crime novel Niketown.