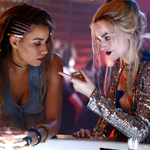 BIRDS OF PREY AND THE FANTABULOUS EMANCIPATION OF ONE HARLEY QUINN is the movie that says "Okay, we fucked up that SUICIDE SQUAD movie, but Margot Robbie was great as Harley Quinn, right? Didn't we kinda have something there?" And the answer is yes and yes, so luckily they gave her another movie. It's the second feature for director Cathy Yan, whose 2018 debut DEAD PIGS takes place in Shanghai but stars Zazie Beetz. She obviously has Robbie's pre-existing character and David Ayer's SUICIDE SQUAD sensibilities to build off of here, but I think she makes it distinct – it feels to me like a studio hiring a promising new director to do her thing, not to follow instructions.
Formerly the abused girlfriend/sidekick of The Joker, this is the story of Harley's life after breaking up with him. No longer enjoying the immunity provided by association with a famous psychopath boyfriend, Harley gets herself into trouble with various factions including but not limited to the gang run by Roman "Black Mask" Sionis (Ewan McGregor, MILES AHEAD, JANE GOT A GUN), police detective Renee Montoya (Rosie Perez, DANCE WITH THE DEVIL, Widows), somebody she punched in a roller derby bout (stuntwoman Keisha Tucker), and somebody who blames her for his face being tattooed like a clown and can't fucking believe it when she doesn't remember what he's mad about (Matthew Willig, FULL CONTACT [1993], 3 FROM HELL). (read the rest of this shit…)
VERN has a new action-horror novel out called WORM ON A HOOK! He has been reviewing movies since 1999 and is the author of the film criticism books Seagalogy: A Study of the Ass-Kicking Films of Steven Seagal and Yippee Ki-Yay Moviegoer!: Writings on Bruce Willis, Badass Cinema and Other Important Topics as well as the crime novel Niketown.