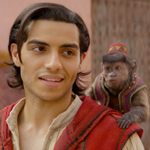 ALADDIN. The 1992 Disney animated classic about a "street rat" who's a "diamond in the rough" and gets three wishes from a hyperactive genie and uses the opportunity to try to marry the princess he just met. See, they come from opposite worlds, but if you think about it, having to sneak out of your gigantic palace in disguise to go to the market while your dad tries to make you marry a prince you don't know for political reasons is very much the same experience as being an orphan who knows how to make crushing poverty fun with petty theft and parkour. So I don't see why there would be any awkwardness there. They'll do great!
Now we have a live action version, and legitimate reason to be skeptical. I'm very proud of my review of SAVING MR. BANKS from just six years ago, which I turned into sort of a manifesto against kneejerk cynicism toward Disney and happy endings and what not. But these days the corporation probly gets less pushback than it honestly deserves – they buttered us up with Star Wars and Marvel movies and then created a disastrous monopoly by purchasing Fox. There are many small, terrible things I could complain about, but it's in the big picture that it seems to me they're really doing the opposite of what their founder was beloved for. It seems less about telling great stories and more about trying to own the most popular "properties." Not only have they entirely abandoned the classic hand drawn animation that was once their entire business, but they're recycling their own animated stories in live action and/or realistic computer animation that's sometimes well done but generally lacks the heart and soul of the drawings Walt helped breathe life into.
That fucking sucks. On the other hand, I can recognize that most of these movies are pretty enjoyable on their own merits. So I try to be fair. (read the rest of this shit…)
VERN has a new action-horror novel out called WORM ON A HOOK! He has been reviewing movies since 1999 and is the author of the film criticism books Seagalogy: A Study of the Ass-Kicking Films of Steven Seagal and Yippee Ki-Yay Moviegoer!: Writings on Bruce Willis, Badass Cinema and Other Important Topics as well as the crime novel Niketown.