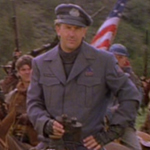 I seriously have been meaning to see THE POSTMAN ever since 1997 when it came out. I thought it sounded like a cool idea, and I seem to remember first hearing of it as an upcoming George Romero movie in a Fangoria Terror Teletype. But then Kevin Costner made it and I guess everybody saying such bad things about it kept pushing it down my list.
Well, I would like to thank everybody for that, because 19 years was exactly the right amount of time to wait – all the sudden there is upheaval in our country that makes this particular dystopia weirdly appropriate. Yes, it's very corny, with slow motion images of triumph made all the more syrupy by a James Newton Howard score. And yes, it is three hours long, but still seems rushed at times, with odd time-passage issues and major scenes that fade in and out like a "previously on THE POSTMAN" highlight reel. But it has a uniquely optimistic spin on post-apocalyptic fiction, and man does it speak to me right now.
Kevin Costner (who directed from a script by Eric Roth [MUNICH, ALI], then rewritten by Brian Helgeland [PAYBACK, BLOOD WORK, A NIGHTMARE ON ELM STREET 4: THE DREAM MASTER, LEGEND]) plays a nameless wanderer in post-Doomwar 2013. The oceans have dried up (reverse WATERWORLD), civilization has collapsed and you gotta do a chemical test on water before you drink it. He's traveling the Utah salt flats with his load-carrying mule Bill, looking for settlements where he can perform Shakespeare scenes in exchange for food. But he's in one of these towns when the Negan-from-The-Walking-Dead-esque tyrannical warlord General Bethlehem (Will Patton, BROOKLYN'S FINEST, ROAD HOUSE 2: LAST CALL) comes through with an army on horseback conscripting ten men from each town. And they choose him. (read the rest of this shit…)
VERN has been reviewing movies since 1999 and is the author of the books SEAGALOGY: A STUDY OF THE ASS-KICKING FILMS OF STEVEN SEAGAL, YIPPEE KI-YAY MOVIEGOER!: WRITINGS ON BRUCE WILLIS, BADASS CINEMA AND OTHER IMPORTANT TOPICS and NIKETOWN: A NOVEL. His horror-action novel WORM ON A HOOK will arrive later this year.