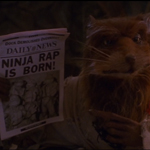 TEENAGE MUTANT NINJA TURTLES II: THE SECRET OF THE OOZE finds the four rubber turtle people (now with different voices, but I only noticed because Corey Feldman was missing) and their master Splinter the rat co-habitating with locally famous human TV reporter April O'Neil (now played by Paige Turco [THE STEPFATHER, The 100] instead of Judith Hoag). They make a mess of her apartment, order stacks of pizza all day and hang up a swimsuit babe poster. They're still trying to keep their existence a secret from other humans, but in the opening a young pizza boy named Keno (Ernie Reyes Jr.) witnesses them stopping a robbery, and helps them using his own martial arts skills.
It seems like a pizza deliverer would be the most desirable possible friend for these turtles, because you see they love pizza is one of the main things we have learned about these characters through years of development in many different mediums, from years of comic books, several different animated series, one live action series, one animated movie, two live action(ish) movie franchises and a live tour. Still, they brush him off and return to Splinter-prescribed secrecy until Keno spots them in the apartment while delivering more pizzas. Splinter gives him some fighting and meditation training but tells him to stay out of their fight against Shredder. Keno completely ignores this, and there are no negative consequences. You don't know what the fuck you're talking about, rat. Who oozed and made you talk, anyway? (read the rest of this shit…)
VERN has a new action-horror novel out called WORM ON A HOOK! He has been reviewing movies since 1999 and is the author of the film criticism books Seagalogy: A Study of the Ass-Kicking Films of Steven Seagal and Yippee Ki-Yay Moviegoer!: Writings on Bruce Willis, Badass Cinema and Other Important Topics as well as the crime novel Niketown.