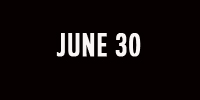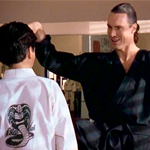 INDIANA JONES AND THE LAST CRUSADE was not the only part 3 on offer for Summer of '89 – there was also John Avildsen's THE KARATE KID PART III. And as Mrs. Vern pointed out to me, the series kind of follows the same pattern as Indy: there's the popular first one, the second one goes off in a different direction (bringing him to Japan), and then the third one plays it safe by being closer to part 1, with Cobra Kai, John Kreese and the All-Valley Karate Tournament. And then of course both series also have a much later, unpopular part 4 and a pretty enjoyable remake starring Jaden Smith.
I think PART II had an okay reception, and this isn't supposed to be an apology for it like LAST CRUSADE was for TEMPLE OF DOOM. But it's kinda funny to me because PART II's trailer narrator said, "No more tournaments. No more cheering crowds. This time… the combat… is real." Of course there's no more tournaments and crowds and shit, that wasn't real combat at all, that was for babies, and only a complete coward would make another movie about that kind of sissy bullshit. We have moved well beyond that nonsense and fuck you if you even think for one second that– oh, what's that? We're doing tournaments and cheering crowds again? Oh, cool! Welcome back! (read the rest of this shit…)
VERN has a new action-horror novel out called WORM ON A HOOK! He has been reviewing movies since 1999 and is the author of the film criticism books Seagalogy: A Study of the Ass-Kicking Films of Steven Seagal and Yippee Ki-Yay Moviegoer!: Writings on Bruce Willis, Badass Cinema and Other Important Topics as well as the crime novel Niketown.