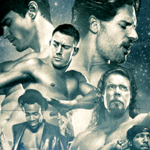 MAGIC MIKE XXL is a movie about a group of musclebound dudes going on a road trip together to enter a big competition. Along the way they pick up girls, get drunk, get high, meet new friends, reunite with old ones, repair old wounds, learn lessons, fall in love, get laid, confess vulnerabilities, get in a wreck, go to a hospital, all the things you would expect. And yet it feels one-of-a-kind in its attitude.
Like the first MAGIC MIKE this stars and was produced by Channing Tatum, inspired by his past as a "male entertainer," or stripper, and written by his friend Reid Carolin. People don't seem to remember this, but Tatum was kind of the co-lead of that first movie, trying to get out of the game while showing the ropes to The Kid (Alex Pettyfur), who ends up becoming a drug addict, turning the fun times into a cautionary bummer. I liked the movie but the sequel is significantly better for ditching The Kid and focusing on Mike taking a vacation from his designer furniture company to get in a food truck with the boys and take One Last Ride to Myrtle Beach.
The team is no longer led by Matthew McConaughey as Dallas. That sounded like a problem when the news first got out, but it's actually an asset. With his character no longer there to absorb all your attention the movie gives way more shine to the other dancers, especially Joe Manganiello (SABOTAGE) as the towering, abrasive but large-hearted doofus Big Dick Richie, and Matt Bomer as the eyebrow plucking pretty boy Ken, who reveals a funny New Agey side. Like all of their eccentricities they tease him about it but also accept it. True friendship. (read the rest of this shit…)
VERN has a new action-horror novel out called WORM ON A HOOK! He has been reviewing movies since 1999 and is the author of the film criticism books Seagalogy: A Study of the Ass-Kicking Films of Steven Seagal and Yippee Ki-Yay Moviegoer!: Writings on Bruce Willis, Badass Cinema and Other Important Topics as well as the crime novel Niketown.