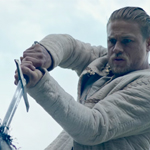 KING ARTHUR: LEGEND OF THE SWORD is not your father's King Arthur. Nor is it your John Boorman's King Arthur, your Broadway's King Arthur, your Disney's King Arthur, your Jerry Zucker's King Arthur or your Antoine Fuqua's King Arthur. It's not even your 300's King Arthur, even though it opens with two armored, King Kong sized war elephants laying siege to Camelot. One of them swings a wrecking ball from his trunk, the other has a pyramid on his back. It spews flames like some kind of crude engine and contains the evil Mage King Mordred (Rob Knighton). That is until King Uther Pendragon (Eric Bana in another Oh cool, it's Eric Bana / Oh wait, he's only gonna be in the beginning part, isn't he? role) jumps aboard and introduces the inside of the sorcerer's neck to Excalibur.
Yeah, there's more crazy fantasy where that came from, or at least a couple more giant versions of animals (snake, bat), but mostly this stays true to the description Guy Ritchie's King Arthur. Like he did with Sherlock Holmes, he recasts Arthur (Charlie Hunnam, GREEN STREET HOOLIGANS) as a streetwise brawler. He was sent away (like Superman) but in a boat (like Willow) to avoid being killed by his evil uncle Vortigern (Jude Law, eXistenZ), but also he witnesses his father being murdered (like Batman) and then grew up in a brothel (like Richard Pryor). In adulthood, we first meet him having just avenged some vikings who (at the very least) beat up one of the ladies. I'd like to think he's just a loyal family member and not their pimp.  (read the rest of this shit…)
VERN has a new action-horror novel out called WORM ON A HOOK! He has been reviewing movies since 1999 and is the author of the film criticism books Seagalogy: A Study of the Ass-Kicking Films of Steven Seagal and Yippee Ki-Yay Moviegoer!: Writings on Bruce Willis, Badass Cinema and Other Important Topics as well as the crime novel Niketown.