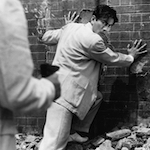 STRAY DOG is an Akira Kurosawa film from 1949 – only seven years into his directing career, but about a third of the way into his filmography. I believe it's the first one I've seen by him that wasn't a period piece. At the time he had gotten really into the Maigret books and decided to write a detective novel. It took him longer to adapt the book into a screenplay than to write the book itself. Apparently it started the genre of police procedurals and/or detective movies in Japan. Pretty impressive side-achievement to kick off an entire category of movies different from the ones he was known for.
The mystery: where the fuck is my gun? Toshiro Mifune – who I have to admit I didn't even recognize – plays the rookie homicide detective Murakami, who's feeling like a piece of shit because somebody swiped his Colt when he was on a crowded bus. He figures it out too late, chases a dude (assistant director Ishiro Honda, five years before directing GODZILLA) but doesn't catch him. So he has to learn all about the local pickpocketing and gun dealing scenes, recognize someone from the bus in a mugshot, convince her to give him a hint about who she gave the gun to, then finding out that person rented the gun to somebody… (read the rest of this shit…)
VERN has a new action-horror novel out called WORM ON A HOOK! He has been reviewing movies since 1999 and is the author of the film criticism books Seagalogy: A Study of the Ass-Kicking Films of Steven Seagal and Yippee Ki-Yay Moviegoer!: Writings on Bruce Willis, Badass Cinema and Other Important Topics as well as the crime novel Niketown.