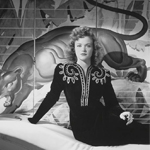 Well, this isn't news to the world, but I can now personally confirm that Jacques Tourneur's CAT PEOPLE (1942) is a simple, moody little black and white horror classic. It has a strange mythology (woman believes she's descended from a tribe that turned into panthers when jealous or horny), but any monster business is late and brief and primarily implied by shadows (and a little bit of animation). Mostly this is a movie about men and women and their relationships.
Irena Dubrovna (Simone Simon, THE DEVIL AND DANIEL WEBSTER) is the one possibly belonging to the titular race. She's an immigrant from Serbia and a fashion illustrator. In her spare time she likes to go to the Central Park Zoo to paint the animals. One day she's tossing one of her sketches in the trash and misses. Oliver Reed (not the actor [THE PIT AND THE PENDULUM] but a fictional character played by Kent Smith [BILLY JACK GOES TO WASHINGTON]) is the dipshit standing near the garbage who gives her shit about it. He strikes up a conversation, they have tea, next thing you know they're married.
In the eventual dissolution of this union, I unequivocally side with Irena. However, there is one major red flag about her that Oliver shouldn't have overlooked: that very first time they met he saw that she had a framed painting of King John of Serbia slaying a cat that she explained represented the history of her country when her ancestors turned to witchcraft during slavery. As an American she has a right to believe this – and within the reality of the movie it is the truth, not just some bullshit she saw forwarded on Facebook – but it's obviously something that didn't jibe with him but he didn't pay attention until after they got hitched. Big mistake.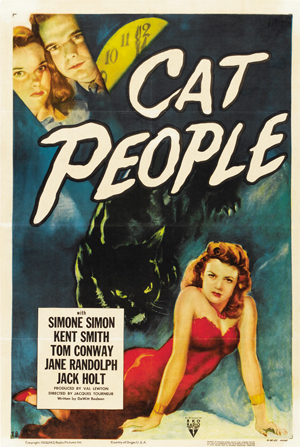 This is a movie with a melancholy feel to it, and I think that's only enhanced by the passing of time. To me, even the part where things are supposed to be strawberries and cream is a little depressing because the way marriages were depicted back then is so alien to me. He goes off to his big shot office to design boats and then he comes home, and I'm sure he appreciates that she's nice and beautiful and the idea of her being a painter, but you don't see them sharing anything – having things to tell each other, to joke about, to go do together. It seems more like they got the good wife/husband they were supposed to want, and that's the end of it.
Irena starts to worry about her cat people heritage because he buys her a kitten that doesn't like her and then they go to a pet shop and all the birds freak out. She accidentally scares a pet bird to death and feels a compulsion to take the body out and feed it to the panther at the zoo. Shit like that. Then when she gets married the wedding party has their dinner at a Serbian restaurant – they have a table reserved, but didn't rent the place out – and a strange woman (Elizabeth Russell, THE CORPSE VANISHES) they all agree looks like a cat (?) stares at her, then comes up and calls her "my sister" in Serbian. She's so freaked out she decides she can't have sex with her new husband. He says it's okay.
So Oliver gets her to go talk to a psychiatrist, Dr. Judd (Tom Conway, narrator of PETER PAN). He's a smarty-pants Dr. Freud type who openly talks about her as a fascinating puzzle to solve instead of being an empathetic listener. He's not terrible, but she knows he's got nothing for her, because he thinks she's reacting to some childhood trauma. So she doesn't go back, but doesn't tell Oliver.
For his part, I think he's doing his best, and is really trying to get her help, but this is the point where he starts fucking up left and right. He talks about how hard it is on him that she's unhappy. And Irena feels humiliated when his hot and hip co-worker Alice (Jane Randolph, ABBOTT AND COSTELLO MEET FRANKENSTEIN) asks her how she liked Dr. Judd. These days most people are pretty open about having therapy, as they should be, but for Irena at this time it's a huge breach of trust that a woman she doesn't even know knows her business.
The friendship between Oliver and Alice is interesting to me, because I strongly believe in and have good male-female friendships and don't think there are enough of them in movies. And I like that this doesn't portray it as inherently suspicious, but unfortunately this is a case where the dude is out of line. Jane confesses her love to him and is pretty good about trying to distance herself from him, but he still does shit like go to the museum with both ladies and tell his wife she should go somewhere because she can't truly appreciate the miniature boats like he and his boat industry colleague pal can.
That kinda bullshit plus a couple of misunderstandings when Irena thinks those two are spending secret time together leads to our cat problem. The movie starts to follow Alice as she believes she's being stalked by a mostly unseen cat. And then Oliver conveniently realizes that he's actually in love with Alice and also he's worried about Alice so he wants her involuntarily committed. (He seems to sincerely think that's the right thing to do.)
The shit really hits the fan when fucking Dr. Judd proves that I misjudged him, and he actually is horrible. He decides that forcing a kiss on her will be good therapy. So she turns into a panther. He gets what he deserves – you could say that his license gets revoked (though his character somehow appears in the otherwise unrelated THE SEVENTH VICTIM). But the ending is beautifully tragic, as these things often go. You want to see her come out on top, but that's not how the world works.
There's some beautiful, shadowy photography as Alice is being spooked on the street and in a hotel pool at night, thanks to cinematographer Nicholas Musuraca. Fittingly, he and Tourneur later did the influential film noir OUT OF THE PAST.
I watched this without knowing the background, but it's amazing. Val Lewton was a journalist who worked for a while writing novelizations for MGM movies, then had a hit pulp novel (later turned into the movie NO MAN OF HER OWN starring Clark Gable and Carole Lombard). He came to Hollywood to try to write movies, ended up becoming David O. Selznick's assistant, which included doing some rewrites on GONE WITH THE WIND.
Then in 1942 he was made the head of a new horror unit of RKO Pictures. He had to make them cheap, under 75 minutes, and using lurid titles that were provided to him – a little like Blumhouse, alot like Full Moon Video. They gave him "CAT PEOPLE" because of the popularity of THE WOLFMAN, but he decided to use some ideas from a story he'd written for Strange Tales in 1930 and made kind of a masterpiece. You see how that works, Asylum? They used leftover sets from other movies, including THE MAGNIFICENT AMBERSONS.
It was RKO's biggest hit that year so he was pretty much allowed to do whatevs for the followups. But his 11 RKO productions, including I WALKED WITH A ZOMBIE, THE LEOPARD MAN, THE SEVENTH VICTIM and ISLE OF THE DEAD came out in a period of only five years. And then he died five years after that.