May 15, 1998
THE HORSE WHISPERER is a drama about healing and romance and horses. It's pretty simple and intimate, focusing mainly on three characters, but it's on an epic canvas; it's nearly 3 hours long and it spreads out to widescreen when it moves from New York to the wide open fields of Montana, photographed lovingly by Robert Richardson (U-TURN, THE AVIATOR, DJANGO UNCHAINED).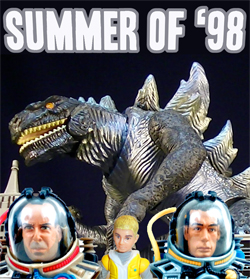 Sixteen year old Grace (Scarlett Johansson in her followup to HOME ALONE 3) has a horrific horse-riding accident – I was actually unprepared for how fucked up the accident is – that results in the death of her best friend (Kate Bosworth [THE WARRIOR'S WAY, HOMEFRONT] in her first movie) and her friend's horse, plus the loss of one of her legs and the mangling of her horse, Pilgrim. (This is the third movie of the summer where a semi-truck plowing into someone is a crucial plot point, but I don't think this one involved a tired driver.) The experts want to put the horse out of his misery, but Grace's mom Annie (Kristin Scott Thomas, UNDER THE CHERRY MOON) never gives permission, so he lives in a barn all scraped up and violently freaking out when approached. Grace is kind of the same, hating her mom and her life and breaking down when she sees Pilgrim scared of her.
But Annie reads a magazine article about this horse expert in Montana named Tom Booker (Robert Redford [THE HOT ROCK], his first time starring and directing at the same time). When she can't get him to come to New York she packs up her daughter and horse against their will for a long drive conveyed through the medium of longer-than-expected driving montage. Grace dodges all attempts at conversation and bonding – thankfully the movie doesn't give Annie any horse troubles on the trip. That would be a nightmare. I don't know how helpful a horse whisperer is when your psychotic horse gets loose at a truck stop. (read the rest of this shit…)
VERN has a new action-horror novel out called WORM ON A HOOK! He has been reviewing movies since 1999 and is the author of the film criticism books Seagalogy: A Study of the Ass-Kicking Films of Steven Seagal and Yippee Ki-Yay Moviegoer!: Writings on Bruce Willis, Badass Cinema and Other Important Topics as well as the crime novel Niketown.