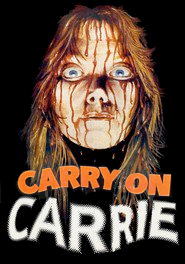 Like THE RAGE, the 2013 remake of CARRIE is directed by a woman. This one comes courtesy of Kimberly Peirce of BOYS DON'T CRY and STOP-LOSS fame. The screenplay is credited to two men, Lawrence D. Cohen (GHOST STORY) and Robert Aguirre-Sacasa (THE TOWN THAT DREADED SUNDOWN remake). The weird thing is that Cohen wrote the DePalma version, and this is his first credit in 9 years, so I don't know if that means they started from an old-screenplay base. It kinda seems like it. It doesn't do its own thing as much as I'd like. It's not DePalma, but it's not a drastically different take either, so I'm not sure how much the female perspective was able/allowed to add in this instance.
Part of the fun of a remake or re-adaptation is seeing who they have playing the different roles. There are some familiar actors in the leads here. Chloe Grace Moretz (TODAY YOU DIE) plays Carrie, and she's the first actual teenager to ever play the character on screen. At 15 I believe she's actually younger than Carrie was in the book, and there's something to be said for authentic youthfulness in this role. Julianne Moore (ASSASSINS) is Margaret White, because of course she is. It would have to be her. Judy Greer, known for thankless roles in every major movie of the last few summers, actually gets things to do in the Betty Buckley role as the sympathetic gym teacher.
I was not familiar with the young actors playing the do-gooder couple of Sue and Tommy. Sue is Gabriella Wilde, a tall blond model who was in the Paul W.S. Anderson THREE MUSKETEERS, and Tommy is boyish Ansel Elgort, a rookie actor who has since been in the DIVERGENT series of trailers that seem to come out every few months, was the boy lead in THE FAULT IN OUR STARS and reportedly on the short list to play Young Han Solo in I HAVE A BAD FEELING ABOUT THIS: THE ADVENTURES OF ALL NEW HAN SOLO. Both actors won me over after initial skepticism. Meanie blood-dumper Chris Hargensen is played by Portia Doubleday, who I know from looking like Amanda Sieyfried on that tv show Mr. Robot. (She was also the surrogate date in HER, and her older sister Kaitlin plays Rhonda, the only major white character on Empire.) Chris's bad boy boyfriend Billy Nolan (Travolta's character) is Alex Russell, who I guess was in CHRONICLE and later Angelina Jolie's UNBROKEN. (read the rest of this shit…)
VERN has a new action-horror novel out called WORM ON A HOOK! He has been reviewing movies since 1999 and is the author of the film criticism books Seagalogy: A Study of the Ass-Kicking Films of Steven Seagal and Yippee Ki-Yay Moviegoer!: Writings on Bruce Willis, Badass Cinema and Other Important Topics as well as the crime novel Niketown.