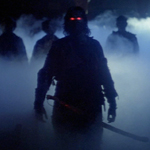 Five minutes before midnight and the 100th anniversary of the founding of his coastal California town of Antonio Bay, John Houseman tells a ghost story to a group of kids gathered around a campfire. He claims the town was founded on gold stolen from a deliberately sunken pirate ship (like in the cool samurai movie GOYOKIN, or the Tom Laughlin western THE MASTER GUNFIGHTER), and the original owners will be coming back tonight for what's theirs. This would be corny as a wraparound story, but it's perfect as a prologue and a warning. We enjoy the art of oral storytelling and a brief pause before the movie marches into an atmospheric title sequence set to a great synth score that could only mean this is a John Carpenter film.
This is more of an ensemble than many Carpenter movies. I'd say the lead is Stevie Wayne (Adrienne Barbeau), local DJ who broadcasts out of a lighthouse she owns. She ties the other characters together because they hear her voice and music wherever they go. She plays mostly old timey jazz, which makes for a good soundtrack and also can sound eerie when echoing tinnily in an empty room.
Then you have Nick Castle (Tom Atkins), a local driving home late at night who picks up a young hitchhiker named Elizabeth (Jamie Lee Curtis). Think about this. Curtis as Laurie Strode, with her presumed virginity, was patient zero for the claim in SCREAM and other places that only a virgin can survive a horror movie. In this one her character gets picked up by an older stranger and is in bed with him within the hour. This is never implied to be a bad thing and they both survive and are heroic. Isn't that what they call "sex positive"? And does a "sex positive" cancel out a "sex = death"? (I'm not good at math.) (read the rest of this shit…)
VERN has been reviewing movies since 1999 and is the author of the books SEAGALOGY: A STUDY OF THE ASS-KICKING FILMS OF STEVEN SEAGAL, YIPPEE KI-YAY MOVIEGOER!: WRITINGS ON BRUCE WILLIS, BADASS CINEMA AND OTHER IMPORTANT TOPICS and NIKETOWN: A NOVEL. His horror-action novel WORM ON A HOOK will arrive later this year.