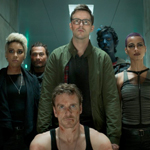 Man, I guess they're considered kinda antiquated now, society has moved on, but I still love the X-MEN movies. Here is the only super hero series to span the entire post-BLADE era until now. Their first movie was eight years before IRON MAN started the Marvel Cinematic Universe. Put another way, it was only three years after BATMAN & ROBIN seemed like it might've ended Hollywood's affair with comic book movies.
You super heroes now a days don't know how easy you have it. The X-Men come from a time when the filmmakers felt they had to give them black leather outfits and make a disparaging joke about yellow spandex if they wanted audiences to take them seriously. And I'm pretty sure they were right. But seven movies and five spin-offs later (not including next year's NEW MUTANTS) they've fought the government, giant robots and an ancient god-like tyrant, solved the Cuban Missile crisis, traveled through time, died and come back to life, gone to space, and yes, even wore yellow uniforms. From "maybe we better call them by their first names" to nobody batting an eye at a six-member space mission team with 50% blue representation. That's progress.
Through much of that the movies retained members of a brilliant ensemble centered on the obvious but perfect (famous bald man Patrick Stewart as Professor Xavier) and the counter-intuitive but ingenious (Australian stage actor Hugh Jackman as Wolverine, Shakespearian Ian McKellan as Magneto). Though this final chapter is the new timeline younger cast of FIRST CLASS, DAYS OF FUTURE PAST and APOCALYPSE, it ends storylines begun 19 year ago. (read the rest of this shit…)
VERN has a new action-horror novel out called WORM ON A HOOK! He has been reviewing movies since 1999 and is the author of the film criticism books Seagalogy: A Study of the Ass-Kicking Films of Steven Seagal and Yippee Ki-Yay Moviegoer!: Writings on Bruce Willis, Badass Cinema and Other Important Topics as well as the crime novel Niketown.