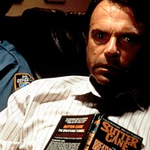 John Carpenter's IN THE MOUTH OF MADNESS is as much a vibe as it is a story. It's bewildered paranoia, fear of an impermanent reality, and the mystique of imaginary horror books with language so powerful it alters minds and taps into an ancient evil.
It starts in an insane asylum, where insurance investigator John Trent (Sam Neill, DAYBREAKERS) swears he's been brought by mistake. He's not crazy, he says. Later in the movie (and earlier in time) the idea is introduced that reality could change for everyone else, but not you, and then all the sudden you'd be crazy without having had to go crazy. Seems like just some bullshit philosophizing when he hears it, but we've seen into the future.
He tells a psychiatrist (David Warner, MONEY TALKS) his story. It all began when he was hired to find the missing author Sutter Cane. Cane is a giant Harry Potter sized phenomenon, described as "bigger than Stephen King" (who he shares a font with) but his stories sound more like H.P. Lovecraft with their unleashings of indescribable evils and what not. This all takes place during a rash of riots and mental health incidents across the country, one of which Trent happened to be a victim of. (read the rest of this shit…)
VERN has been reviewing movies since 1999 and is the author of the books SEAGALOGY: A STUDY OF THE ASS-KICKING FILMS OF STEVEN SEAGAL, YIPPEE KI-YAY MOVIEGOER!: WRITINGS ON BRUCE WILLIS, BADASS CINEMA AND OTHER IMPORTANT TOPICS and NIKETOWN: A NOVEL. His horror-action novel WORM ON A HOOK will arrive later this year.