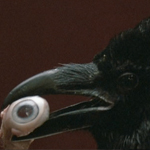 Don't get mad, but until now I'd never seen Dario Argento's OPERA. It comes after a run of his best and/or most famous movies: DEEP RED, SUSPIRIA, INFERNO, TENEBRE and PHENOMENA, and I can finally confirm that it belongs in that company. Though it doesn't reach the feverish intensity of his very best, it's cool to see Argento get access to a higher level of production value. This takes place mostly in a real opera house with a full opera production, orchestra, behind-the-scenes crew and audience, and cinematographer Ronnie Taylor (Academy Award winner for GANDHI!) takes Argento's fanciful camerawork up a couple levels.
The ambition is clear in the opening scene, when obnoxious (and unseen to us) opera diva Mara Cecova throws a fit at Marco (Ian Charleson, CHARIOTS OF FIRE, GANDHI), visionary director of the Julie-Taymor/HIGHLANDER-II-ish stylized production of Verdi's Macbeth she's starring in, and storms out. The camera seems to represent her point-of-view, with everyone looking at her as she has her tirade, but if so then I guess she floats off the stage into the crowd and then walks out backwards? It's confusing… and totally impressive and captivating. (read the rest of this shit…)
VERN has been reviewing movies since 1999 and is the author of the books SEAGALOGY: A STUDY OF THE ASS-KICKING FILMS OF STEVEN SEAGAL, YIPPEE KI-YAY MOVIEGOER!: WRITINGS ON BRUCE WILLIS, BADASS CINEMA AND OTHER IMPORTANT TOPICS and NIKETOWN: A NOVEL. His horror-action novel WORM ON A HOOK will arrive later this year.