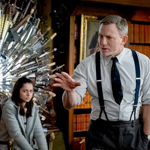 I was a Rian Johnson skeptic for years. I can't deny it. I recognized BRICK as original and well directed, but couldn't swallow its stylized world of teen noir ("in my day a dude walking around with a duck cane was in for a serious ass beating, he would not be running a drug empire," I wrote), skipped the second one because I thought it was gonna be bootleg Wes Anderson, liked LOOPER but recoiled at people talking like it was the Second Coming ("I feel a little out of step here. I mean I like it, but I don't want to fuck it"), and this may be out of line but I have always thought his credits should read "Written and directed by Rian [sic] Johnson."
Then STAR WARS: THE LAST JEDI came along – a movie I didn't think he was qualified to direct, but it turned out to be so much better than I expected, and so reinvigorating to a trilogy I thought was going in an emptier, more obvious direction. All the sudden I wanted to hear everything the guy had to say, listened to interviews, started spelling "Ryan Coogler" as "Rian Coogler," and even considered maybe seeing THE BROTHERS BLOOM some day.
So I was much more open-minded for his new laughdunit mysteryblast KNIVES OUT, which sure enough is a fun time for all without anything that felt too corny, forced or self conscious for me. Only in the last shot did I think "oh, this is kind of Wes Andersony." And by then it wasn't gonna bother me much. (read the rest of this shit…)
VERN has a new action-horror novel out called WORM ON A HOOK! He has been reviewing movies since 1999 and is the author of the film criticism books Seagalogy: A Study of the Ass-Kicking Films of Steven Seagal and Yippee Ki-Yay Moviegoer!: Writings on Bruce Willis, Badass Cinema and Other Important Topics as well as the crime novel Niketown.