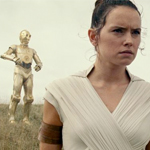 STAR WARS: THE RISE OF SKYWALKER is the kind of thing that happens when a singular voice creates a revolutionary trilogy that changes movies forever and becomes a cultural phenomenon beloved by generations and then years later makes a trilogy of prequels to said movies that are also a cultural phenomenon and also change movies forever in a different way but are disdained by many and after a while he gets so sick of fuckin hearing about it that he sells off his entire life's work for nearly five billion dollars and gives most of it to charity while a giant entertainment conglomerate treats his creation as an all-consuming brand centered around a third trilogy that ends the saga but is made by three different directors with no plan for where the fuck it's going and the first guy does a good workmanlike job, then the second knocks it out of the park with a soulful and distinct followup that severely pisses off a small faction of people we only know about because of the internet and then the third guy gets fired so the first guy has to come back and figure out how the fuck to conclude a story he designed for some other poor sucker to have to deal with and also find an ending to the larger cultural phenomenon he's been mimicking and for some reason he feels the need to alienate the people who like the movies by pandering to the people who didn't.
So, you know, if you haven't seen it yet, you surely can picture that type of movie, but also you shouldn't read this review because it's ALL SPOILERS and also you won't know what the fuck I'm talking about. (read the rest of this shit…)
VERN has a new action-horror novel out called WORM ON A HOOK! He has been reviewing movies since 1999 and is the author of the film criticism books Seagalogy: A Study of the Ass-Kicking Films of Steven Seagal and Yippee Ki-Yay Moviegoer!: Writings on Bruce Willis, Badass Cinema and Other Important Topics as well as the crime novel Niketown.