also June 5, 1998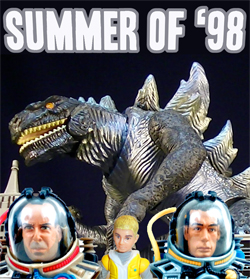 This review series has swerved off in an unexpected direction. Usually I do these summer movie retrospectives to experience/revisit the big expensive blockbusters of past eras, and I throw in some of the other stuff for variety and historical context. But with the early part of summer '98 dominated by big movies as bad as LOST IN SPACE and GODZILLA, but given personality by smaller ones as good as WILD THINGS, HE GOT GAME and FEAR AND LOATHING IN LAS VEGAS, I caught on that it was in my own best interest to be a little more completist than usual. So I went back to my list and added THE OPPOSITE OF SEX and a few other more modest comedy and arthouse type movies that are coming up, and then I realized that this MR. JEALOUSY that I had assumed was some generic studio comedy was actually the second feature by writer/director Noah Baumbach. So here we are.
This is the story of Lester (Eric Stoltz, ANACONDA) and Ramona (Annabella Sciorra, FIND ME GUILTY) during some months they spend together as a tenuous New York City couple. Lester is Mr. Jealousy because, as we learn from narration, he caught his first ever girlfriend cheating on him, and then in college he spied on one and saw her getting it on with a previous boyfriend, so now he's extremely suspicious of anyone he dates and lives his life cripplingly paranoid about their exes. Some kids have an experience that makes them grow up to be Batman, some have this. (read the rest of this shit…)
VERN has been reviewing movies since 1999 and is the author of the books SEAGALOGY: A STUDY OF THE ASS-KICKING FILMS OF STEVEN SEAGAL, YIPPEE KI-YAY MOVIEGOER!: WRITINGS ON BRUCE WILLIS, BADASS CINEMA AND OTHER IMPORTANT TOPICS and NIKETOWN: A NOVEL. His horror-action novel WORM ON A HOOK will arrive later this year.