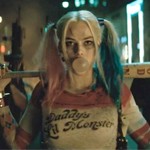 For many years, Warner Brothers had pretty good luck making Batman and Superman movies. With SUPERMAN: THE MOVIE they pretty much invented the comic book movie. With BATMAN they reinvigorated it. Sure, there were those Joel Schumacher movies that put the whole venture in peril, but then they took the genre to the next level when they let Christopher Nolan start over and do his very successful and influential trilogy. They've had more hits than misses, I think.
But now the rival Marvel Comics company has their whole interconnected movie universe thing, and everybody's gonna be jealous of their neighbor's sports car, I guess, so WB is trying to do one of those for DC Comics. So far this has caused excitement followed by disappointment.
But the upside is that because they're desperate to show off all these characters they own they went for the cool idea of SUICIDE SQUAD, a comic where a bunch of the villains from other comics are taken out of prison and forced on dangerous missions for the government, DIRTY DOZEN or Snake Plissken style. Popular bad guy characters are able to be enjoyed as anti-heroes, and get some amount of redemption for that time when they tried to rob a bank but the Flash caught them or whatever. The movie version is written and directed by David Ayer. That's the guy who used to be known for writing TRAINING DAY, but more recently he's come into his own as a writer/director with END OF WATCH, SABOTAGE and FURY. He can also brag that he has a writing credit on THE FAST AND THE FURIOUS. (read the rest of this shit…)
VERN has a new action-horror novel out called WORM ON A HOOK! He has been reviewing movies since 1999 and is the author of the film criticism books Seagalogy: A Study of the Ass-Kicking Films of Steven Seagal and Yippee Ki-Yay Moviegoer!: Writings on Bruce Willis, Badass Cinema and Other Important Topics as well as the crime novel Niketown.