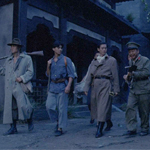 Don't get your hopes up as high as I did, but SEVEN WARRIORS is kind of cool because it's the 1989 Hong Kong take on the SEVEN SAMURAI story. So that means the version with the most complex and acrobatic action.
I had been under the impression it was a Sammo Hung movie, which is not accurate. The credited director, Terry Tong, has a total of nine directing credits, mostly movies that have not made it to the States. He has bit parts in DANGEROUS ENCOUNTERS OF THE FIRST KIND and TWIN DRAGONS, so maybe he is a Sammo associate, and maybe IMDb has a reason to list Sammo as co-director. But the credits and other reference sources do not. He does have a small cameo in the opening scene, which is a weird place for a cameo. It's a much smaller part than Bruce Campbell in CONGO.
The screenwriter is Kan-Cheung Tsang, who wrote ROYAL WARRIORS and a bunch of Stephen Chow's movies including SHAOLIN SOCCER and MERMAID. He sets this version in "the Warlord Era" or "Chaotic Era" of China, when veterans wander around as mercenaries or thieves, some of them led by hairy-mole-faced Piu (Lo Lieh, CLAN OF THE WHITE LOTUS) to terrorize and extort a defenseless village. So of course a couple of the villagers go into town and they find Chi (Adam Cheng, ZU: WARRIORS FROM THE MAGIC MOUNTAIN), a once respected, now alcoholic commander who was in the war with Piu, to gather up some of his old troops. They're a colorful set of characters, the most impressive being the suave knife thrower and Karl, the big blacksmith who walks away from repairing some lady's pan the second the Commander asks for help. He carries around a giant spiked club, almost as big as a person, which is enjoyable in any genre. We could use more of those in cinema. (read the rest of this shit…)
VERN has been reviewing movies since 1999 and is the author of the books SEAGALOGY: A STUDY OF THE ASS-KICKING FILMS OF STEVEN SEAGAL, YIPPEE KI-YAY MOVIEGOER!: WRITINGS ON BRUCE WILLIS, BADASS CINEMA AND OTHER IMPORTANT TOPICS and NIKETOWN: A NOVEL. His horror-action novel WORM ON A HOOK will arrive later this year.