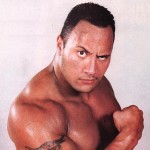 There are three very clever sequences in this movie. First, it opens with narration over a starfield, and then pans over to show Mars. Suddenly the familiar UNIVERSAL logo letters spin around Mars. So it's just like the usual studio logo except the red planet instead of the globe. Then the letters go off screen and the camera zooms into Mars and into a space colony where the movie takes place. It's like there's not even time to bother with a studio logo, our only option is to work it into the plot. That is how urgent it is to get to the motherfucking DOOM.
Yeah yeah, I know my movie history, so you don't have to flood me with emails pointing out that the great visionary McG already connected the first shot of C'S As 1 to whichever studio logo it was. But this is a different thing because the movie has already started, and then we get the logo within the movie. If we are to follow our understanding of standard cinematical language, there may really be giant letters orbiting around Mars within the reality of DOOM. It all takes place indoors, so there's no way to know if there are giant UNIVERSAL shaped shadows dripping across the landscape. (read the rest of this shit…)
VERN has been reviewing movies since 1999 and is the author of the books SEAGALOGY: A STUDY OF THE ASS-KICKING FILMS OF STEVEN SEAGAL, YIPPEE KI-YAY MOVIEGOER!: WRITINGS ON BRUCE WILLIS, BADASS CINEMA AND OTHER IMPORTANT TOPICS and NIKETOWN: A NOVEL. His horror-action novel WORM ON A HOOK will arrive later this year.